The Top 10 Bread Bakeries Of America

24 Dec 2010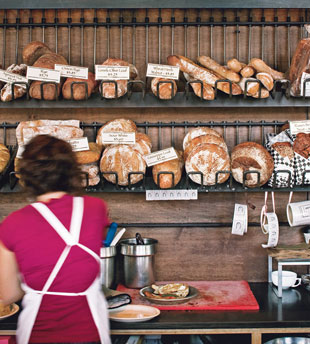 The bread bakeries of America are working overtime again as the Americans are intent on discovering the artisanal bread with a vengeance. It is the baguette, Pullman loaves, sourdough boules and ciabatta that is being churned out of America's bakeries now instead of the white and pre sliced bread favored by all Americans once upon a time. However, it is important to know America's bakeries and their quality of products even before you succumb to the lure of the bread which is different in taste. Take your pick from the top 10 bread bakeries of America which offer substantially more than the plain white bread.
Barrie Cullinan - One of the better bread bakeries of America, this outlet in Austin Texas specializes in honey-pecan bâtardes, whole wheat loaves and buttered croissants.

 
Rustica - Leaven loaves and rustics are amazing at this Minneapolis bakery. Included among the best of America's bakeries, it serves special breads every day of the week.

 
Berkshire Mountain Bakery -   A must visit for every bread lover; this Richard Bordon bakery is likely to be included in the list of the best bread bakeries of America only for its sourbread if not for anything else.

 
Sullivan St. Bakery - This bakery is sure to get a mention when you are thinking of the most popular bread bakeries of America. The airy, light flat bread known as pizza Bianca is simply too amazing for words.

 
Macrina - The oatmeal butter bread for the health conscious as well as the house bread baked from organic grapes is certain to lift this Seattle bakery right to the top of the list comprising the best bread bakeries of America.

 
The Denver Bread Company - The list of the quality bread bakeries of America will undoubtedly remain incomplete without a mention of this Denver based bakery. Renowned for its sourdough boules, the seasonal breads hold a special attraction for the Americans all through the year.

 
Fox & Obel - Challah and pretzel breads along with peasant sourdough baked in this up market Chicago outlet is enough to catapult it straight to the top of the very best of bread bakeries of America list.

 
Tartine Bakery & Café - A long queue snacking in to the confines this particular bakery for its freshly baked house bread early in the morning is enough to label it as one of the very best of America's bakeries.

 
Della Fattoria - California based and concerned with health, this is regarded as one of the most popular bakeries of America on account of its obsession with organic products and natural baking processes.

 
H & F Bread Co. – Brioche, focaccia and mini baguettes fresh out of the oven keep the residents of Alaska hooked day after day. It comes as no wonder, therefore, when the small bakery is represents its state in the list of the top ten bakeries of America.
Image courtesy: bonappetit.com
The Top 10 Bread Bakeries Of America