How to make Banana Pudding from Scratch?
Banana Pudding!!! I always thought that banana is simply not my fruit, especially because of the effect it has on my diet!! But recently I had a piece of traditional banana pudding made by a friend's Mom. That delicious dessert turned me into a banana lover overnight!!!  I got the Banana Pudding recipe from her and the secret was her awesome custard and topping!! Here is how you can make banana pudding from the scratch: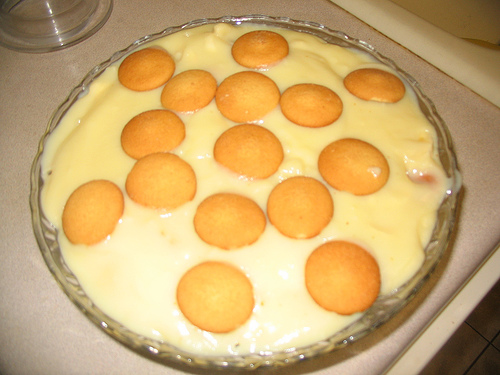 Ingredients:
Sliced Banana – 3 ½  Cup(5 medium sized banana)
Sugar  - 3/4 cup
Flour – 1/3 Cup
Eggs - 3
Milk  - 2 Cups
Vanilla - 1/2 tsp.
NILLA Wafers  45
A pinch Salt
Preheat the oven to 350°F.
On top of a double boiler mix together half of 3/4th of sugar, all the flour and a dash of salt.
Separate the egg yolks of the three eggs and add them to the sugar mixture along with the milk. Continue stirring the mixture over the double boiler for 10 to 20 minutes until it has reached a desired thickness.
Remove the mixture from the heat and add vanilla
Pour some of the prepared custard into the 1½ quart baking dish.
Keep aside 12 Nilla wafers and use 1/3rd of the remaining wafers to make a layer of Nilla wafers on the top of the first custard layer. Now make another layer using 1/3rd of the banana. Pour the custard and continue layering until three such distinct layers are made, each ending with custard.
Beat the egg white till soft peaks a form. Now add 1/4th cup sugar to this and beat again until stiff.
Place this over the last custard layer. Ensure that it covers the pudding well and the edges are well sealed.
Now bake the pudding for 15 to 20 minutes until it develops a light brown color. Remove it from the oven and decorate with rest of the Nilla wafers  
TIPS
You can also avoid the stiff egg white topping and simply pour the custard over layer wafers and banana and freeze the layered dessert.   Yumm!!!
The Banana Pudding is a fruit dessert that you simply shouldn't miss! Try it!
Image Credits
www.flickr.com
How To Make Banana Pudding From Scratch?