How to Make Cream of Celery Soup?
14 Jul 2010
With the monsoons in full swing, what can be a better idea than a making cream of celery soup at home - hot and steaming, freshly made and served with soft, crispy garlic breads?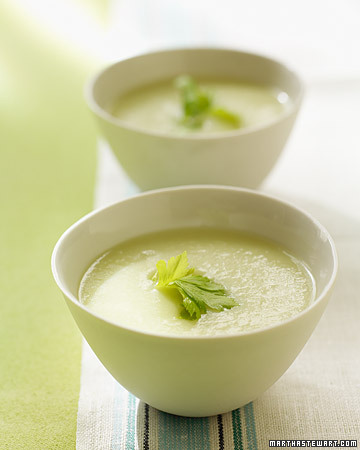 The distinct taste of celery not only adds flavor and aroma to your soup, it also contains Vitamin C, which helps you fight cold. The cream of celery soup is also one of the most flexible soups, where you can add any seasoning of your choice and every time you get the delicious variants of this healthy and tasty soup.
Ingredients:
To make cream of celery soup, you need the following ingredients:
Celery – 1 bunch; Onion – ½ cup, finely chopped; Butter – 2 tablespoons; Seasoned Salt – 1 teaspoon; White Pepper – 1 teaspoon; Celery seed – 2 teaspoon; Flour – 3 tablespoons; Chicken Stock – 1 cup; Milk - 3 cups.
Method:
Chop the celeries into pieces of half inches. You can use the leaves as well for this soup. However, ensure that the root ends are not used. Put them in a colander and rinse well. Once cleaned, drain the excess water.
Place a pan on medium heat. Add a tablespoon of butter to the pan and melt it well.
Add the celery and finely chopped onions to the melted butter and stir well. Sprinkle a tablespoon of salt to it and let it cook. Keep stirring in between so that the celeries don't stick to the pan.
Cook for about 10 minutes. You can see the celeries gradually turning translucent.
At this point, add a teaspoon of white pepper and the celery seeds. Let it cook for another couple of minutes.
Now, add the chicken stock to the soup and bring it to a complete boil. Once it starts boiling, reduce the flame and let it simmer.
The next step is to make the roux. For this, take a small pan and place it over medium heat. Add another tablespoon of butter and melt it.
Now, add the flour to it. Whisk continuously so that it forms an even mixture and no lumps are formed.
Let this cook for sometime. Keep stirring constantly for about 5 minutes. You can see the mixture first becoming opaque, then slightly translucent and then finally taking in a nice, slightly brown color. Turn the heat off at this stage.
Back to the soup, it's time to bring the stock to a broil again. Once it starts boiling, stir in the roux. Keep stirring continuously to ensure that no lumps are formed.
Add the milk to it and let it boil for some more time, till you see the soup thickening. At this point you can remove it from the heat.
Garnish it with some celery and serve hot!
Celery contains basic mineral, vitamins and nutrients. It contains great anti-oxidant and anti-arthritic properties. Good for eyes, nerves and heart, the positive attributes of this herb is uncountable. And the cream of celery soup is probably the tastiest way of making use of this great herb. So, start making cream of celery soup and enjoy the great satisfaction that this delicious soup gives.
Photo Courtesy: images.marthastewart.com
How To Make Cream Of Celery Soup?