Gift A Safe Kitchen For Your Mother!
15 May 2009
It is Mother's day  and I haven't gifted my mother anything yet. But I have big plans for her. What better gift to give my mother than a Safe Kitchen! My mother is a wonderful and loving cook who spends a lot of her time in the kitchen!! Though I usually gift her some mothers day dishes I prepare, this time I want to give her something useful and lasting.


I think a safe kitchen would be a better Mothers day gift than any Mothers day greetings. Even you can revamp your mother's kitchen using these tips as well as instruct her on a few safe kitchen practices!
Anti Fall Zones - Remove slippery rugs and mats and buy non slip mats or rugs in the Kitchen. Make sure that the kitchen flooring uses non slip tiles or other coarser medium that provides a good grip.
An Organized Kitchen -Find a place for every object in the kitchen. Name the containers, drawers, cabinets and associated keys so that your mother can manage without difficulty.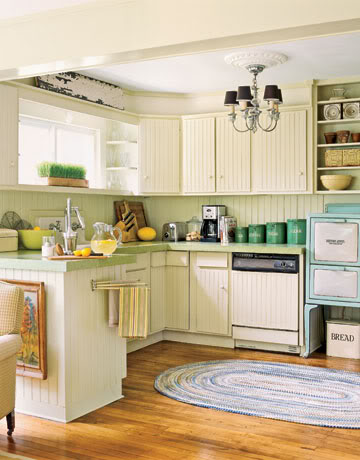 Well Lit Kitchen - Use strong energy efficient bulbs. This helps them to see things better and therefore reduces the probability of bumping in to things and also makes it easier for them to cook.
Usage of Electrical Appliance - Divide the kitchen into the wet preparation area and cooking area. This way you can keep the electrical appliances far away from water sources. Replace any shredded, broken or exposed electrical cords.
Anti Cut Zone - Keep sharp objects in a separate drawer and cork the sharp edges. Install magnetic knife racks on which the knives an be placed.
Anti Fire and burn Zone - Keep a fire-extinguisher in the kitchen and instruct your mother about how to use it as well as why she should use it not only on the flames but also on the source of the frames. Keep flammable material away from the kitchen flames or stoves. Provide your mother with a couple of new oven mitts to replace the old ones.
Other tips -
Buy your mother a good first aid kit and keep it in the kitchen; Let everyone in the house know where they are.
Put up a bulletin board in the kitchen and beside the phone(install a phone in the kitchen if its not there).Write emergency numbers and pin it on to the board and inform your mother about the same.
I hope my mom likes this safe kitchen gift I intend to give her this weekend! I hope these tips helps all those wonderful mothers around the world.
Image Credit homedesignfind; kecu; gizmodude
Gift A Safe Kitchen For Your Mother!