Japan's Weird Take On Valentine's Day

28 Jan 2013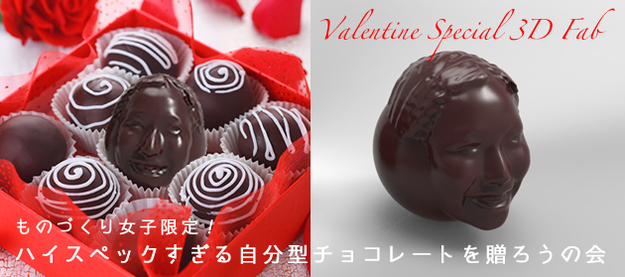 Valentine's Day is all about romantic gestures, cute bunnies, delicious chocolates and weird, horrifying faces. Errr, cut out that last one because that really doesn't go well with the scheme of things, right?
Well FabCafe, a Japanese restaurant begs to differ. Just like everything else, Japanese have a weird, if popular, take on how to express love in the form of faces made out of truffle. The restaurant, located in Tokyo's Shibuya area, allows women customers to scan their faces into a silicon mold, which is then used to make truffle. The truffle can, then, be gifted to your respective partner but whether he would find it amusing is a different story.
As expected, the chocolate truffle faces, thus made, look frightening, to say the least, all because women get themselves scanned in all types of weird expressions. As a result, the face that is intended to look smiling, ends up looking like screaming.
Hence, we have no idea why some Japanese women ended up spending $68 per head to get their headshots done, when they could simply gift a box of chocolate to their loved one on Valentine's Day?
And what is this that we hear? The Japanese men intend to reciprocate this gesture in March, on the occasion of White Day. Well, weird things happen in pairs, too.
Other Articles You May Like To Read:
1. Weird Food Gifts For Your Valentine
3. Bacon Shaving Cream Is A Reality Now
Image Courtesy: schwarkreport
Japan's Weird Take On Valentine's Day