World's Most Expensive Christmas Dinner Is Being Cooked In UK
In the U.K., a chef named Ben Spalding is selling a Christmas dinner worth $200,450, which is being touted as the most expensive Christmas dinner in the world. Now, would you be interested in taking a bite?
While most people would shop for turkey, potatoes, Brussels Sprouts, and some tangerines for their Christmas dinner, Chef Spalding has prepared a list of dry ice, Almas caviar (£5,000), a whole white truffle (£3,500), gold leaf, Wagyu beef heart, limited edition Japanese watermelon, Kopi Luwak, and a £37,000 bottle of Champagne to rustle up the $200,450 Christmas dinner. Now you get the picture, right?
The lavish spread, consisting of a four-course meal made with some of the most expensive ingredients on the planet, will be available on the website veryfirstto.com.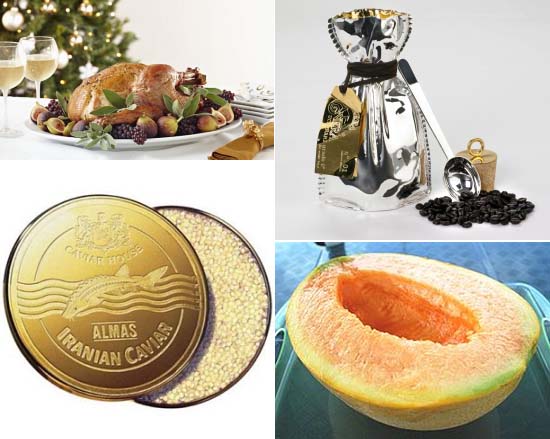 The most decadent touch has been lent to the traditional turkey. The chef has used a rare breed turkey along with Wagyu beef fillet and heart, costing £5,000, which shall be wrapped up in edible 50-carat gold leaf worth £6,000. Akbari Pistachios (£5,000) would be sprinkled over this centerpiece.
The exorbitant dinner would be finished with the Densuke watermelon and whipped Kopi Luwak, served on a gold Ugandan vanilla plate. All this is for a dinner that would feed four people.
The only good thing about this decadent treat, apart from the taste, of course, is that the proceeds generated from serving this four-course meal would go to charity. So, someone else would also get to celebrate Christmas this year!
Other Articles You May Like To Read:
1. Most Expensive Tuna In The World
2. The Most Expensive Restaurant Meals In The World
3. World's Most Expensive Tea Bag
4. Wanna Eat The World's Most Expensive Sundae?
Image Courtesy: bornrich
World's Most Expensive Christmas Dinner Is Being Cooked In UK