Even Presidential Pardon Can't Save These Turkeys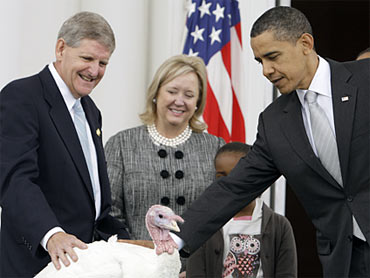 Since 1947, the National Turkey Federation has been presenting a turkey every year to the President but it was only in 1989 that the tradition of complete pardon began with President John F. Kennedy and continues to this day. President Barack Obama has followed this tradition to this day and will continue it this year too on Thanksgiving.
Last year, Obama, accompanied by his daughters Sasha and Malia, pardoned a 19-week old, 45-pound heavy turkey, Liberty. This year, he is going to pardon a 19-week-old, 40-pound turkey. Before their pardon, the fowl would spend a few days in a luxurious hotel suite and after the pardon is granted, the turkey would be taken to the Virginia estate of President George Washington in a horse-drawn carriage. Thereafter, the bird would be a part of the Mount Vernon Christmas display till January 6.
However, have you wondered what happens to these pardoned turkeys after that? Well, earlier, starting with 2005, the pardoned birds were put up at Disney parks but not anymore because of the high mortality rate. Reports suggest that 50% of the turkeys sent to live at Disney park, after the pardon ceremony, died within 12 months - the reason being that the modern turkeys are commercially-raised and genetically modified. As a result, these birds require specialized care to deal with serious health issues, which is not available where they are kept.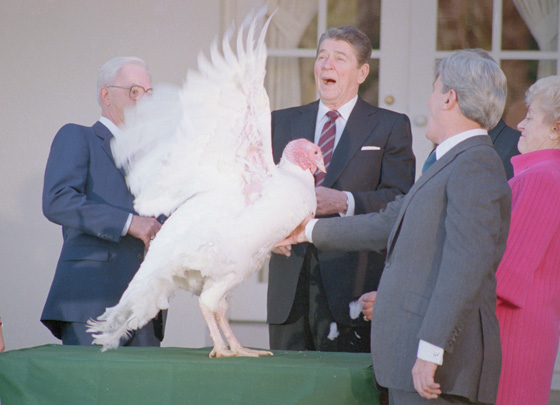 As a result, even the Presidential pardon cannot save them from the inevitable death that awaits them towards the end of life.
Other Articles You May Like To Read:
1. Top 5 Thanksgiving Traditions
2. What Is Cooking In White House This Thanksgiving
3. Obamas Keep Up Traditional White House Thanksgiving
Image Courtesy: cbsnews, thefw, mentalfloss
Even Presidential Pardon Can't Save These Turkeys