Blytheville Thanksgiving Meal Expected To Feed A Thousand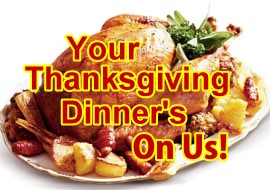 Thanksgiving is an occasion to share what you have with those who don't have anything. At a time when there are millions of people struggling to find ways to feed themselves, here comes an event, which promises to feed at least a thousand mouths. The event is Blytheville's Annual Free Thanksgiving in the Mississippi County, which is gearing up to feed more than 1,000 people.
Aaron Brassfield, the outreach coordinator at Gospel Lighthouse, is organizing the free meal project, which has grown exponentially with increasing donations and volunteer contributions in the past few years. During the 2011 free Thanksgiving meal, 803 free meals were distributed and the organizers expect to cross that mark this year.
The meal will be served at the Senior Citizen's Center on David Lane in Blytheville, beginning 10.30 am. The volunteers will also serve free meals to the elderly and disabled people who shall be unable to reach the venue. People from all over Blytheville are expected to pitch in to organize this free meal event, however, more donations are always welcome. In case you want to donate too, contact Brassfield at 870-763-6212.
Other Articles You May Like To Read:
1. Best 5 First Thanksgiving Meal Ideas
2. My Favorite Thanksgiving Appetizers
3. The Traditional Thanksgiving Meal Gets 28 Cents Costlier
4. Best 5 Traditional Thanksgiving Meal Ideas
Image Courtesy: merfradio
Blytheville Thanksgiving Meal Expected To Feed A Thousand