Katie Holmes, Tom Cruise Come Together For Thanksgiving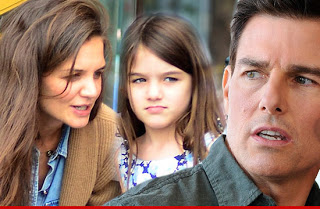 While no one would have thought this could be possible even a few days earlier, it is true that Tom Cruise is desperate to get back with his estranged wife Katie, even if it is for the Thanksgiving holiday.
It has been almost six months to the sudden split in their relationship, but for the sake of their daughter Suri, Tom and Katie are prepared to spend Thanksgiving under one roof. Katie is said to be eager to have Suri spend time with both her parents and for that, she is prepared to fly to a ski resort in Telluride, Colorade, to be with Tom on November 22, the Thanksgiving Day.
It is heartening to see how these two celebrities are trying to give their daughter a normal life despite their lives have gone separate ways. Sources suggest that both the parents have swallowed their pride and they want to make this a wonderful holiday for their daughter.
Considering the fact that it is Tom who has not met his daughter in four months, this Thanksgiving is going to be a cherished gift for him as well.
Other Articles You May Like To Read:
1. Favorite Treat Of Tom Cruise & Katie Holmes
2. 5 Non-Traditional Recipes To Serve This Thanksgiving
3. Celebrity Chef Tips On Thanksgiving
4. Go Versatile For This Year's Thanksgiving Wines
5. Are You Ready To Volunteer This Thanskgiving
Image Courtesy: irishcentral
Katie Holmes, Tom Cruise Come Together For Thanksgiving