The Traditional Thanksgiving Meal Gets 28 Cents Costlier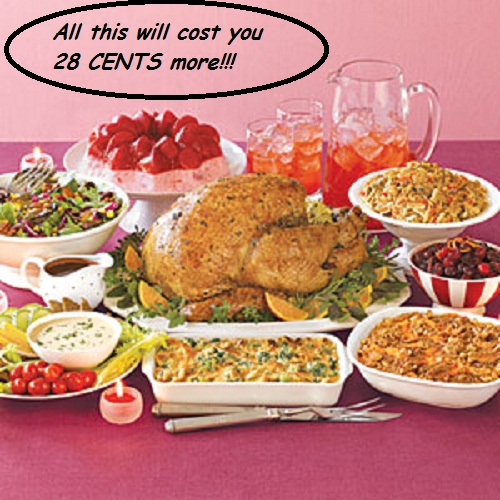 It is Thanksgiving and the holiday season is in full swing. Whether it is the food, travel, or fun activities, everything is getting costlier in comparison to previous years. So, this year, you need to shell out 28 cents more if you want to have your traditional Thanksgiving meal, complete with turkey, stuffing, cranberries, and the pumpkin pie.
The American Farm Bureau Federation has estimated that organizing a Thanksgiving meal for about 10 people would cost about 1% more in 2012. You may think that that is a manageable hike but take into consideration the fact that last year, in 2011, America has already seen a record increase of 13% in celebrating Thanksgiving. Now it doesn't look all that comfy, right?
Well the Federation blames the rising cost of turkey, a 16-pound specimen of which could come at a cost of $22.33, a 4 cents per pound hike as compared to last year. But that doesn't mean that the rest of the ingredients are also selling at a higher cost. In fact, whole milk, whipping cream, fresh cranberries, and pumpkin pie mix, all have become cheaper since 2011.
So, in fact, Americans should be grateful that there is just  slight increase in the cost of a Thanksgiving Meal.
Other Articles You May Like To Read:
1. Are You Ready To Volunteer This Thanksgiving
2. Go Versatile For This Year's Thanksgiving
3. 5 Non-Traditional Recipes For Thanksgiving
4. Celebrity Chef Tips For This Year's Thanksgiving
Image Courtesy: myrecipes
The Traditional Thanksgiving Meal Gets 28 Cents Costlier