Ypsilanti Organizations Plan Thanksgiving Meals For The Needy
It is Thanksgiving again and American businesses are trying to give it back to the needy, which is, probably, the best way to celebrate this occasion. In Ypsilanti, while some organizations are going to distribute food to needy families, others would prepare the meals themselves. Here is what you will get to see in the coming days or till the Thanksgiving holiday, which is on Thursday, November 22nd.
Behavior Workshop 18th Annual Pre-Thanksgiving Dinner – From November 15 till the Thanksgiving holiday, dinner would be served between 4.45 to 7.45 p.m. at Perry School Gymnasium, 633 Harriet St., Ypsilanti.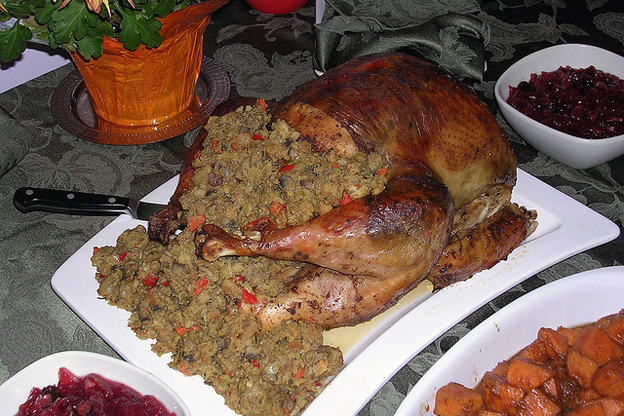 Salvation Army Kitchen – In the Washtenaw County, the Salvation Army kitchen crew would serve a special Thanksgiving meal within its regular community meal between 5 and 6 p.m. on Monday, November 19. The Kitchen is again going to join hands with the Ypsilanti Free Methodist Church  on Wednesday, November 21, for a Thanksgiving Meal between 4.30-6.30 p.m.
Ypsilanti Hunger Coalition Meal – The Emmanuel Lutheran is hosting this meal on Tuesday, November 20, and it will be held at Emmanuel Lutheran, 210 N. River, Ypsilanti.
Holy Trinity Student Parish – In Ypsilanti again, the Parish will continue the 35-year-old tradition of community Thanksgiving dinner on Thursday, November 22. The meal will be held between 11 a.m. and 1 p.m. in the social hall of the Church at 511 W. Forest Ave. The dinner served will be traditional fare of turkey, stuffing, mashed potatoes, vegetables, and beverage.
Ann Arbor Vineyard Homeless Ministry – Another Thanksgiving meal is planned at Vineyard Church, 2275 Platt Road in Ann Arbor, between 11.30 a.m. and 4 p.m. The meal is a more elaborate affair with turkey, ham, mashed potatoes, sweet potatoes, green bean casserole and pumpkin pie, etc.
Original Cottage Inn – The annual Thanksgiving dinner will be held from 10 a.m. to 2 p.m. on Thanksgiving Day at the restaurant located at 512 E. William St., Ann Arbor.
These are some of the opportunities for the needy families and individuals to enjoy a Thanksgiving meal. If you know of some more, help us add to this list.
Other Articles You May Like To Read:
1. Thanksgiving Stuffing - Best Stuffed Dishes For Thanksgiving
2. Celebrity Chef Tips On Thanksgiving Dinner
3. Thanksgiving Parade In New York
Image Courtesy: archny, indianapublicmedia, handsonblog
Ypsilanti Organizations Plan Thanksgiving Meals For The Needy