Celebrating Diwali In L.A. With Indian Touch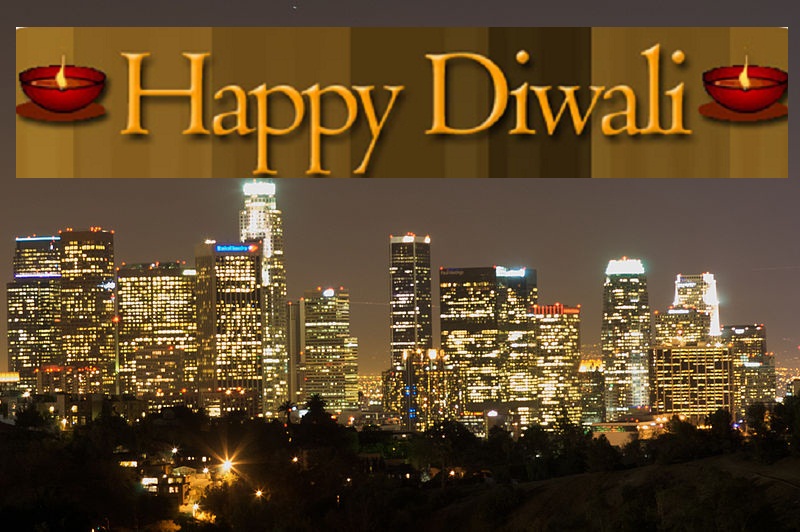 More than 10,000 miles away from India, the expatriates are busy planning their Diwali celebrations in Los Angeles, California. Celebrated as the Indian festival of lights, Diwali has held the fascination of Americans as well, for whom the festival is representatives of sweets, religious fervor and, of course, lots of lights and crackers.
This year, in case you are planning to hold a Diwali celebration at home, in L.A. or near it, you will need a lot of help. For that, you need to keep handy information regarding the main shopping marts in your vicinity, from where you can make the necessary purchases.
If you are looking for pink rose-anjir (rose-fig) patties, or jaggery-covered sesame seeds, til-papri or lilo-chevdo to gift this Diwali, then Surati Farsan Mart is the place to be. The shopping mart has recently been remodeled and you can pick up a lot of interesting snacks and sweets, packed in festive boxes, to gift within family and friends.
11814 E. 186th St., Artesia, (562) 860-2310. www.suratifarsanmart.com
Sukhadia's Mithai & Restaurant is another franchise, which is famous for too-sweet Indian confectionary. However, not everything sold here is artificial and too rich. The store is famous for its anjir halwa (fig pudding), which is naturally sweet and also vegan. Other delightful delicacies on offer here are Almond peda, Masala boondi, and Motichoor laddus.
18413 Pioneer Blvd, Artesia, (562) 402-1155, www.facebook.com/SukhadiaLA
If you are looking for traditional Gujarati sweets and snacks, then head to Radhe Sweets & Catering. The Matthis and Khakhras on display here are mouth-watering. His fresh mithai such as Kaju amir roll or savory snacks like Methi laddoo are to die for. You can also try the Bombay-style vegetarian sandwich, which is grilled, if you are having a Diwali party at home.
3070 W. Lincoln Ave., I-J, Anaheim, (714) 220-9355, www.radhesweets.com
By now, Americans are very familiar with the Indian after-dinner digestive aid, i.e., Paan or betel leaf. In case you want to give your Diwali party an ethnic touch, go to K.C. Spices & Paan or Sangam Grocery & Paan, two shops, which will offer you the best in the business, with such exotic stuffings inside the betel leaves like sweetened fresh rose petals or candied cumin seeds. Although, these shops cater to large orders, orders of any size can be picked up from the shop.
K.C. Spices & Paan, 18803 Pioneer Blvd., Artesia, (562) 402-0894 or (562) 355-2889; Sangam Grocery & Paan, 1155 S. Diamond Bar Blvd., Diamond Bar, (909) 861-7074, http://www.freshpaan.com
Other Articles You May Like To Read:
1. Food Flavor For The Festival Of Lights - Diwali
2. American Brands Turn 'Indian' Diwali 'Western'
4. What Drinks To Serve On Diwali
Image Courtesy: wikipedia, ntickcollections, america
Celebrating Diwali In L.A. With Indian Touch