American Brands Turn 'Indian' Diwali 'Western'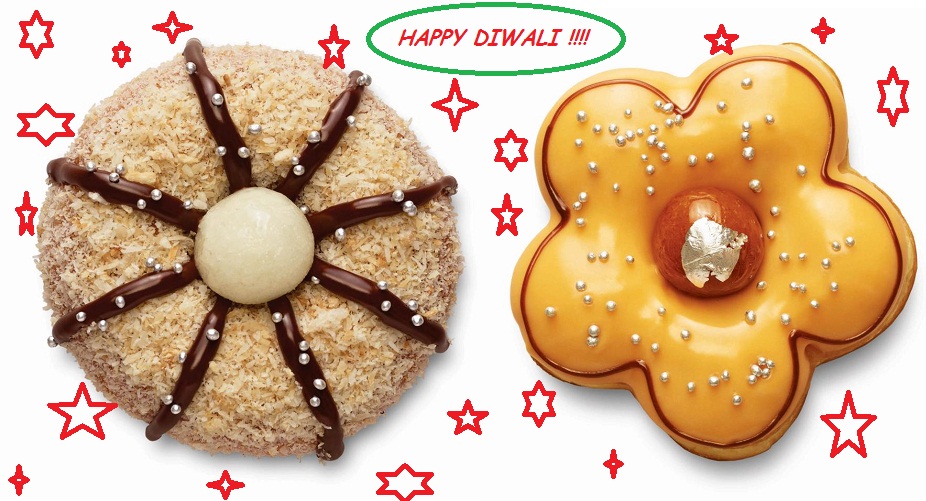 American companies have launched an onslaught of the friendly kind on the Indian festival of lights – Diwali. Therefore, instead of the traditional sweets associated with this festival, you can treat yourself and your family to donuts, gourmet ice creams, and flavored yogurt, while praying to Goddess Lakshmi, this Diwali.
Surprised? Well, with so many popular American food brands opening up store here, is it any surprising that instead of motichoor laddus, you can now enjoy motichoor donuts? But that is just the start!
To liven up the Diwali fever in Indian cities, brands such as Choko la, Dunkin' Donuts, Yogurberry, and Haagen-Dazs are lining up some quirky, international flavors to contribute to the sweet factor. The companies term this step as a means to mingle with the Indian culture but the move spells commercial profit as well. So many Indians have voiced their concern at the same old mithais making the rounds every Diwali festival, that they are going to lap up any such innovative mix, even if it means celebrating a more Westernized Diwali than Indian.
Donuts come with such delicious toppings like motichoor, Kesar Pista delight, petal jamun, coconut burst, and nuts n stars, to celebrate the spirit of Diwali. Dunkin' Donuts, which has started selling all these flavors, has received a tremendous response to the Indianized donuts. Choko la has burst onto the Diwali scene with its innovative chocolate crackers, which the Indian palate is not too familiar with. Diwali gift packs by Choko la are filled with choko sparkles (pretzel sticks and dark chocolate), choko blast (dark chocolate fudge), rocket rose (dark chocolate roses), and choko anar (Indian flowerpot made of dark chocolate filled with rice crispies).
Premium ice-cream brand, Haagen-Dazs, not wanting to be left behind, has come up with ice cream flavors inspired by Indian sweets like barfi and gulab jamun to claim a pie of the Diwali sweets market.
However, if you are the health-conscious type and all this talk of sweets is making you sweat, rest assured, the Western brands have taken care of you as well with their health-friendly products like Red Mango's pistachio-flavored yogurt and Yogurberry's fresh fruit yogurts.
While Diwali festival is the motive behind all these Western sweets, it is clearly America, which remains the inspiration for the change in the sweet scenario.
Other Articles You May Like To Read:
1. Indian Sweets Get Innovative This Diwali
2. New Age Sweets For Festival Of Lights - Diwali
3. Top 10 Diwali Sweets To Make At Home
4. Top 10 Sugar-Free Sweets To Make This Diwali
Image Courtesy: Facebook, lifestyleblogindia
American Brands Turn 'Indian' Diwali 'Western'