Top 10 Healthy Foods For Ramzan Observers

15 Aug 2012
The holy month of Ramzan is for many, a period of indulgence, feast and rich food. Thankfully, there is a vast array of healthy and tasty food that can be made part of the iftar or breaking of fast which is celebrated everyday during Ramadan. This is important as health problems like high blood sugars, kidney stones, constipation and elevated blood pressure are commonly seen during this time and reflect the luxurious intake of food. This blog shares the top 10 healthy and delicious foods, to enjoy with family this Ramadan.
 Well Balanced And Nourishing Foods For Ramadan
1.   Dates
They are the most ideal and healthy way to break a fast. Dates are rich in natural sugars that instantly supply the body with much needed energy. They also have many natural vitamins and minerals like potassium and iron that are important for good health. To make a protein rich snack, stuff the dates with nuts like almonds or walnuts. These nuts are full of healthy mono unsaturated fatty acids that are heart friendly and provide additional calories.
2.   Tahini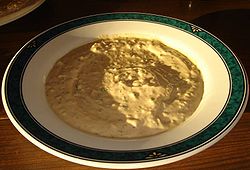 It is a nut butter made with sesame seeds and makes for a great spread on a sandwich or a roll. This is a good replacement for margarine and high fat cheese. Tahini can be made at home and is also available at many stores.
3.   Hummus
This is a super healthy protein rich and low fat dip that can be prepared at home in a jiffy. It is made with boiled chickpeas, garlic, olive oil and tahini which are all blended to make a smooth thick paste. A good accompaniment with breads and roast meat, hummus is also high in fiber, vitamins and minerals.
4.   Foul Madammas
This is a dish comprised of cooked fava beans which are served with whole wheat bread, cucumber salad and other vegetables. It is a perfect balance of cereals, pulses and vegetables and is high in taste and health. Foul madammas is full of soluble fiber that helps to keep cholesterol and blood sugars in control.
This thick soup is rich in protein and also provides sufficient calories that are needed after fasting. It is made with red lentils, aromatic spices and vegetables like tomatoes, onions and potatoes that make a creamy and delicious soup. Aditionally, it is low in fat and very filling.
6.   Baked Kabab Bahraini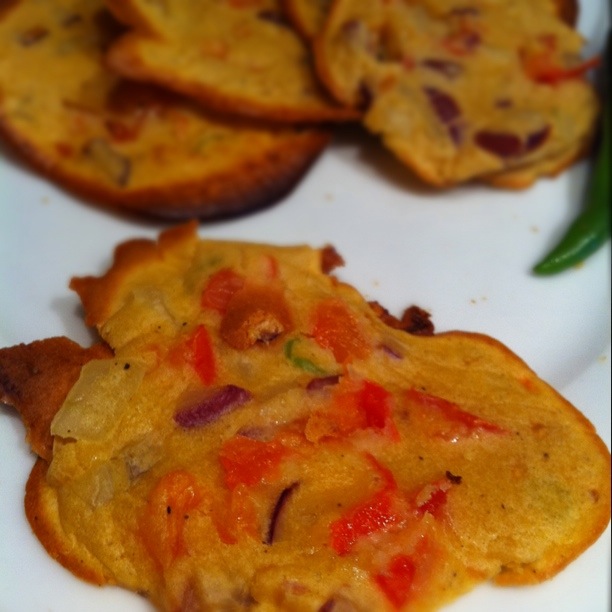 These are usually deep fried but can also be grilled or baked for a healthy and non greasy treat. Small blobs of chickpeas batter that have in them chopped onions, tomatoes and spices are put on a pan and cooked till done. The aroma and flavor of this simple dish is out of the world. Even children will eat it without much fussing!
7.   Brown Rice Mujadarra
This popular Lebanese dish works very well as a nutrient rich main on the iftar menu. Brown rice and beans are cooked together till they soften and then seasoned with cumin, garlic, salt and pepper. One bowl of the mujadarra is packed with fiber, complex carbs, protein and water soluble vitamins. How much healthier can an iftar get?
8.   Haleem
Ramadan is incomplete without haleem, which is a slow cooked dish made with meat such as chicken and mutton, lentils and pounded wheat or barley. It is cooked for 8 hours till a paste like consistency is formed. This is full of flavor due to the large amount of spices that are added to it. It is rich is protein and fiber and very nutritious.
9.   Kolak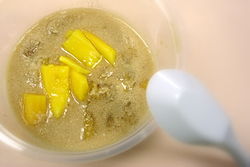 It is an Indonesian dessert that is made with either bananas, jack fruits, sweet potatoes or cassava. It is rich in natural sugars from the starchy fruits and vegetables and a healthy replacement to deep fried sweets. Rich in potassium, iron, calcium and fiber, this is a must try dessert for iftar.
10.   Roast chicken Stuffed With Rice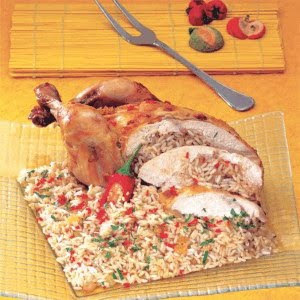 This is not only a great way of combining carbohydrates and proteins, it is also a low fat food that is yummy and bursting with flavor. It is eaten as a main and served long with a crunchy salad. A perfect and wholesome iftar meal.
Ramadan and iftar can be just as festive with these healthy traditional meals that nourish the body and keep the mind healthy. After all, one's health should in no way be compromised during celebrations and festivals. Simple and wholesome food will make Ramadan even more special and eventful.
Image Credit wikipedia, homemade-recipes.blogspot, onearabvegan
Top 10 Healthy Foods For Ramzan Observers