Indian Sweets- Pakistani Eid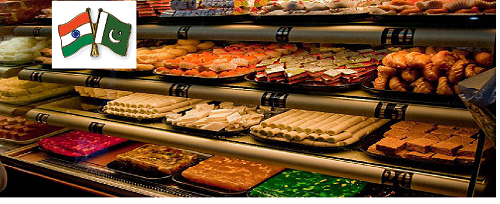 Ramzan, the occasion of gaiety and merriment after a long month of fasting is once again upon us. The Indian High Commission in Islamabad, Pakistan tries to sweeten the ties between the neighboring countries who love to hate each other. This has become a standard practice now and is carried out  every year on the occasion of Eid-Ul-Fitr. It is Indian sweets  for the Pakistani people, a practice in soft diplomacy that has the country hankering for more of the delicate sweets.
The Sweet Gifts
This year was no exception either. The entire preparation of bringing back the sweets across the border was carried out to a T almost like a military exercise. The van dispatched to Delhi with this sweet mission in mind came back full of Barfis, Sohan Halwas, Chum-chums and cans of Rasgullas. The Kaju Katlis, considered to be a delicacy in North India were a hit straight away. While the other varieties  can be obtained in Pakistan if you look hard, the Kaju Katlis are a rarity there. However, there is no rancor obvious when it comes to eating them. The Pakistanis simply love it and keep hoping for more next Eid.
The list of recipients are drawn up well before the preparations begin and consists of a diverse group which includes ministers, academics and distinguished members of the civil society. The journalists too get their share and agree that this is a tactful move that helps in mending the relationship between the two countries.
The tradition continues and has been maintained even after the deadly Mumbai attacks.
Well, we hope that the relations will indeed become sweeter after being drenched in syrupy gulab jamuns and yummy kaju katlis. We wish both the nations a Happy Independence Day which falls just before Ramzan and hope that 65 years of Independence would make both the countries come of age sufficiently to tackle the real issues plaguing their respective countries.
Image Credit- defence.pk, jaintv
Indian Sweets- Pakistani Eid