Top 10 Ramadan Desserts

13 Aug 2012
The holy month of Ramadan is also a time to share good food with family and friends. The day long fast which is broken in the evening, is a special treat as a delectable range of desserts and savories are eaten with loved ones. These are high in calories to provide enough energy to the body for the many hours of fasting. This blog shares with you the top 10 desserts that are a must try this season of Ramadan.
Mouth Watering Ramadan Desserts
1. Sütlü Nuriye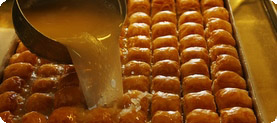 This is a top favorite on the iftar table as it is loved by one and all. It is a light, crusty pasty that is made with milk and all purpose flour and is similar to the popular baklava. Butter and nuts like hazelnuts, pistachios and walnuts go into this delicious dessert. It has its origins in Turkey, but now enjoys a global presence due to its sublime taste.
2. Qatayef
It is known by many as the king of sweets as it is a true indulgence in the holy month. It is a stuffed dessert made with dough that is fried and filled with cheese, nuts, apples, pudding and cream. To make it even richer, it is soaked in sugar syrup before serving.
3. Awwameh
Popularly known as sweet delight, these are round balls that are made with flour and fried and coated with sugar syrup. Yeast is usually added to make them fluffy. Rose water is the most common flavoring agent that is used. 
4. Kunafah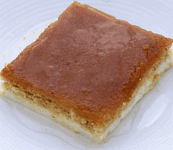 This is a pastry that is simply yummy as it is filled with the most delicious cheese and nuts. It has plenty of butter which helps it get a golden brown crust when baked. Akkawi and mozzarella cheese and walnuts are the usual ingredients in this rich yet light sweet.
5. Aysh El Saraya
It is a sweet that is made out of bread that is toasted and soaked in golden caramel. This is then topped with fresh cream and nuts like pistachios (sliced or whole ) and is refrigerated before serving.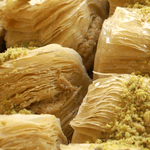 A sinful dessert that consists of dough with butter, nuts, sugar and aromatic spices such as nutmeg and cinnamon, which combine to give the perfect baklava. It is a flaky and crusty, melt in the mouth dessert. It can also be made with sugar substitutes for diabetics and overweight individuals. 
7. Moushabak
It is another must try sweet that has a circular shape and is deep fried. It is a lebanese sweet that is made with semolina and orange flower extract.  After frying, it is dipped into sugar syrup and cooled till hard and crisp. 
8. Zulubiya
All purpose flour batter that is leavened with yeast, is fried by swirling it into many rings. This is then soaked in sugar syrup that is flavored with rose water or orange blossom.
9. Osmanilya Pistachio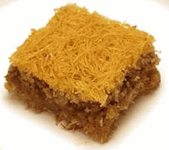 It is a layered sweet that is made mainly with phyllo dough (wheat dough that is finely shredded). The filling is pistachios and the entire sweet is drizzled with sugar syrup.
10. Om Ali
It is a rich bread pudding that has special ingredients like coconut flakes, raisins and pistachios. It is served with sweetened milk and loads of cream. It is best eaten warm and tastes simply divine!
This Ramadan, try the above desserts to enjoy the festival of fast and feast. These traditional desserts are the true hallmark of the food, which is an important part of the festivities and celebrations of Ramadan. 
Image Credits- cairowestmag, khaleejesque, sarkispastry, gulluoglu, blogspot
Top 10 Ramadan Desserts