National Corn Fritters Day – Celebrating the Country Dish

15 Jul 2012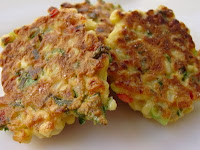 A much awaited day for comfort food lovers – 16th July is the National Corn Fritters Day! A day dedicated to this delicious country side dish, which is a creative dish produced from milk, butter, flour, and of course corn kernels.  This is a fried snack which is extremely yummy in taste and you may be loathe to stop eating them once you start. The day can be celebrated at home or in speciality food restaurants which offer special offers and promotions for the day. Keep reading to know more .
Interesting Facts:
About the day:
Corn fritters are closely associated with American South – the area popular for producing different types of comfort food. Corn is a traditional ingredient and is popularly used in a variety of recipes. Thus, food lovers  love to spend the day by enjoying a variety of these innovatively created fritters. Several Asian countries prepare corn fritters with a large number of vegetables and and serve them with a spicy sauce thus providing yet another variation.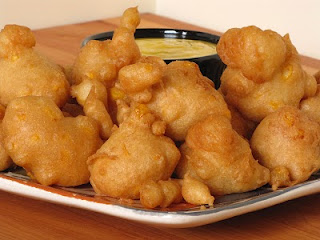 How to celebrate the day:
Well, this is an informal food holiday – you may not find major celebrations for this day around you, but you can still do your own bit to make the day special.
Regional events: Several places in US have regional events hosted on this day. These are usually held by corn lovers who take pleasure in popularizing the day. Check if such an event is being held somewhere close to you.
Host a party at home: Why not introduce corn fritters to your friends – especially those who have never tasted them before. You can prepare  a variety of such dishes at home and serve them to your friends.Drop in announced at your Mom's doorstep clamoring for your beloved crn fritters. I'm sure she'll have them ready for you.
Corn fritters options to try out at home:
Corn fritters with yogurt dip:  This is one of those snacks which you can prepare in a hurry – yet, a much loved and fulfilling dish. A perfect option for the day. Check video to prepare the dish:
powered by ifood.tv
Homemade water corn fritters: A corn dish which can be prepared in just 15 minutes and served as snacks in parties, get-togethers and as an every evening snack.
Banana corn fritters: The flavor of banana and crunchiness of corn is combined in this dish. This is a favorite among the kids – you can prepare this not only on this special day but also for birthday parties and picnics.
Sweet potato corn fritters:  Savory creamy corn dish which is served as an appetizer. The addition of sweet potatoes adds a unique touch to the corn fritters dish.
powered by ifood.tv
Now, its your turn to celebrate the National Corn Fritters day – prepare these fried goodies at home and enjoy your own culinary skills along with your friends and family.
Image credits: freerecipehub, ourjourneytoasimplerlife
National Corn Fritters Day – Celebrating The Country Dish