Tips For Safe Grilling On 4th Of July

28 Jun 2012
Summer means celebrations and merrymaking and this could not be truer than in case of the Independence Day on Fourth of July. While it is your right to enjoy this day with your family and friends, keep these food safety rules in mind if you plan to entertain guests with some grilling skills.
Precautions To Be Taken While Grilling
1. Clean Thoroughly
The old English adage, "cleanliness is next to godliness" holds true even today. Clean and germ free hands as well as utensils that you will use in the course of grilling need to be squeaky clean. So how do you hope to do that? Carry the cleaning items namely soaps, disinfectants and a weak vinegar solution. Having some bleach may also come in handy.  You do have to clean the utensils properly with a mild soapy solution and hot water if available. Be sure to wipe it with a clean cloth or sponge once you are done. It would also be a good idea to disinfect the grill surface and utensils along with the knives, tongs and other knick-knacks that you are going to use. A teaspoon of bleach added to a quart of water suffices admirably as a disinfectant while you can also opt to use a vinegar in water solution. Be careful and wash your hands every time you touch a dirty surface or your person and all will be hunky dory as you get prepared to enjoy your Independence Day grilling.
2. The Right Temperature
Grilling your meat absolutely right is the key here. You must allow the proper time to elapse before you can chew on the succulent grilled meat or poultry. Arm yourself with a cookbook when in doubt but never try the guessing game here. Remember that meat which is a little overdone will be better than the undercooked one as there is no possibility of bacteria formation there. It is imperative to use a food thermometer if your grill does not come equipped with one. A change in color or texture might be misleading however experienced you might be. It is best to allow your burgers to cook at 160 degrees F and poultry at 165 F. Food poisoning always occurs when you eat food that is at 40F-140F. Keep this in mind and take the right precautions.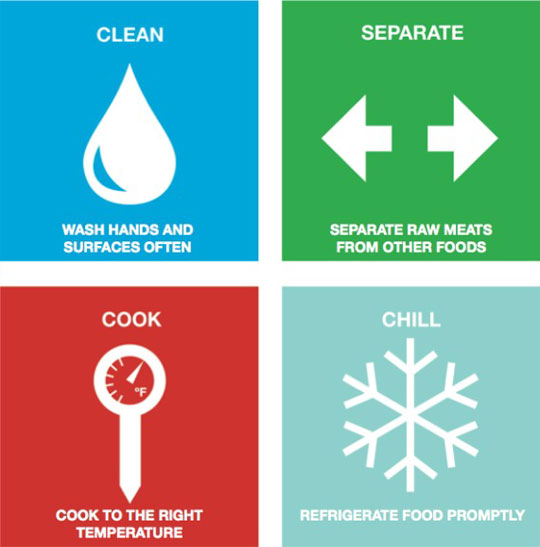 3. Keeping The Food Warm
You might be a little taken aback to learn that the food you carry along should not be allowed to cool after it has been heated thoroughly. This fall in temperature will let the germs have a field day and you will end up eating contaminated meat. The best way to overcome this obstacle is to keep the food warm by means of a slow cooker or chafing dish until you are ready to eat. The manager for USDA's "Meat and Poultry Hotline" advises throwing the food away if you are in doubt. It is always better to be safe than sorry and compromising on Food Safety issues is a strict no-no.
4. Raw & Cooked Meat
Following the right procedure and adhering to hygiene stringently might not serve you in good stead unless you keep the raw meat completely separated from the cooked food items. It is best to use separate utensils to hold them once you get ready for cooking. Transporting the ready-to-eat foods and the raw items together is certainly not advisable. Be careful to pack each of them separately, taking every care to see that the juices from the raw meat or seafood do not get into the cooked or ready-to-eat food stuffs. Eggs can be carried along in cartons and need to be transported carefully in order to prevent breakage which might again lead to food contamination.
5. Storing Leftovers
An Independence Day grilling session means good food aplenty. There is always a great amount of food left over after you have had your fill. Sure, you are going to take it back with you but how do you ensure that it remains safe for consumption? The ideal way would be to cut up the meat into thin slices and store them into freezer bags. Be sure to squeeze out the air before you attempt to pack the meat. Do make sure to pack it within an ice-box or refrigerated van so that the meat chills well. Make it a point to use it in sandwiches, stir fries or pasta dishes within a period of 3-4 days. The flavor of the grilled meat will be retained and you will be able to recollect the good times on 4th of July as you finish off the leftover meat at home.
Other Blogs You May Like To Read:
1. Rock This Fourth Of July With These Rocking Recipes
2. Tips To Be Food Safe On Fourth Of July
3. Fourth Of July Cookie Ideas
Image Courtesy: netanimations, thekitchn
Tips For Safe Grilling On 4th Of July