Top 10 Memorial Day Cupcakes
24 May 2012
Whatever menu you choose to serve during the Memorial Day weekend, cupcakes are going to be a part of it, right? However, serving these bite-sized goodies in different avatars, without boring the guests, can be a daunting task. After all, creating a large variety of cupcakes is not everybody's cup of tea. Well, you have ifood.tv on your side, so relax and make use of these recipe ideas to create your favorite treat your way.
1. Corn On The Cob Cupcakes
Choose lemon cupcakes as the base. Now to dress them up for the occasion you would need small yellow, cream, or white jellybeans, yellow food color added butter cream frosting, yellow fruit chews, and black and white decorating sugar. Frost the cupcakes and then arrange the jellybeans on the cupcake, alternating yellow and white ones. Arrange three cupcakes, side by side, on a pale green hued serving platter to resemble a corn ear. Fix a corn holder at the end of each ear. Now top the corn with softened fruit chews to give it a buttery appeal. The cupcakes are ready.
2. Hamburger Cupcakes
They taste as fabulous as they look. Chocolate cupcake sandwiched between two yellow cupcakes, embellished with some yellow-hued cream cheese frosting, and shredded green tinted coconut! Garnished with roasted sesame seeds, these make for a perfect dessert idea on Memorial Day.
3. Watermelon Cupcakes
Quite a popular idea, it is also easy to make these watermelon cupcakes. A chocolate chip embedded reddish pink hued vanilla cupcake and topped with a green hued creamy frosting resembling the watermelon peel! That would be the simplest form of putting across these pint-sized sweet treats!
4. Flag Cupcakes
Perhaps the cupcakes best suited to this occasion, you can use red, white, and blue cupcake liners with same colored frosting too. Once the cupcakes are ready, arrange them on a plain white tray akin to the flag.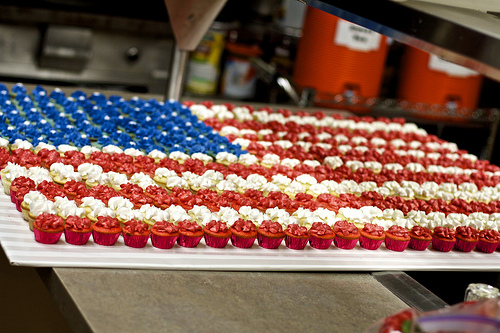 These cupcakes look similar to an apple pie. Place your cupcake in a larger cupcake wrapper after baking them. You can choose to bake chocolate or vanilla cupcakes. Top off with a delicate layer of frosting followed by fruits of your choice – you can have diced strawberries, cherries, or even mashed up nectarines. Fruit topped warm cupcakes make luscious eats, but we are not yet done. Pick a pale golden hued frosting and adorn the cupcake to resemble a lattice pie.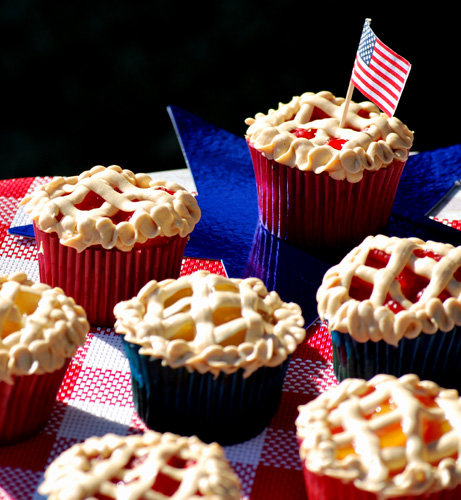 6. Patriotic Cupcakes
These red, blue, and white cupcakes are ideal for your Memorial Day picnic. Red velvet cupcakes adorned with a delicious blue frosting and creamy white whipped cream and then, embellished with red and blue sprinkles! While the mere look at these cupcakes will boost the patriotic rush in you, these taste divinely good on your taste buds too.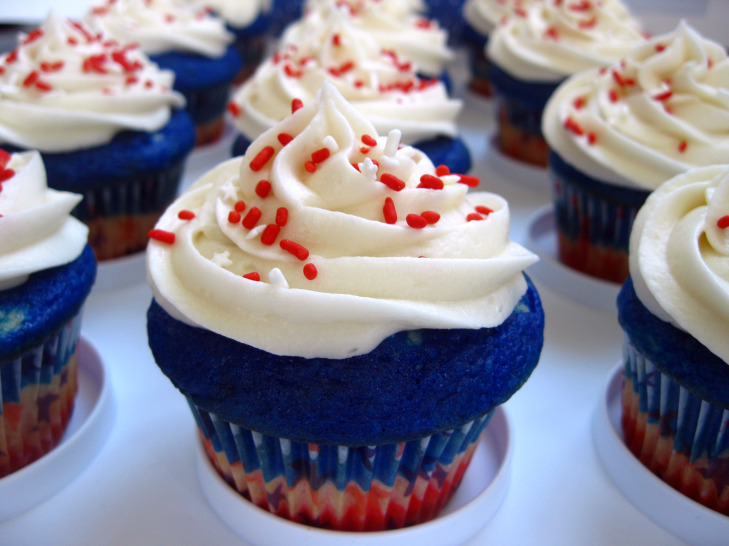 7. Kabob Cupcakes
Give these desserts a novel look to meet your party demands by transforming them into sweet kabobs. A handful of chocolate cupcakes, few fresh strawberries, and other fruits, if you want any – these are the ingredients! Arrange the cupcakes and strawberries as shown in the picture above on lollypop sticks, after the frosting sets.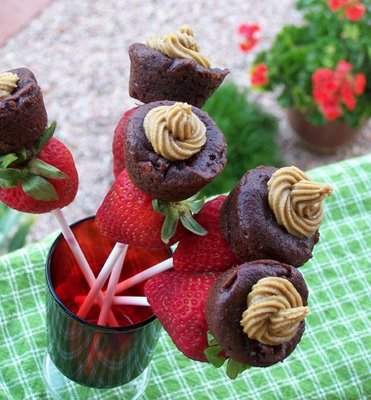 8. Hot Dog Cupcakes
A peanut becomes the hot dog bun, caramel or a chocolate square will become your hot dog. Decorate with yellow frosting for mustard sauce! As for cupcakes, you can bake and frost the ones of your choice. However, for a patriotic appeal, you can bake a red velvet cupcake with a blue cupcake liner and frost with a white frosting before decorating with the "hot dog."
9. Popcorn Cupcakes
Placed in a popcorn-shapped cupcake liner, frosted with a luscious white chocolate frosting and decorated with white chocolate chips, these cupcakes look exactly like the salted popcorns. What are your thoughts?
10. BBQ Cupcakes
Chocolate cupcakes are frosted with a magnificent dark chocolate frosting before giving them the grill appeal. Using black frosting, line the cupcake in a way that it resembles a grilled pattern. Sprinkle yellow and pale orange "embers." Now, you can place your steak, pork, kabobs, hot dogs, and burgers for grilling. For kabobs, arrange the chewable soft candies – green, orange, yellow, and red ones – on a lollypop stick. For steak, you can shape up your caramels. The bean shaped red jellybeans will become your hot dogs, while you can keep Hershey's kisses upside for burgers.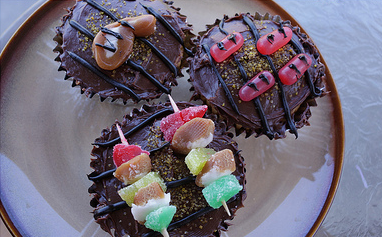 Other Blogs You May Like To Read:
2. 5 Super Easy Memorial Day Dessert Ideas
Image Credit: thecupcakeblog.com, thespunkycoconut.com, sincerelyboots.blogspot.in, mommytopics.com, cometogethercards.blogspot.in
Top 10 Memorial Day Cupcakes