Top 10 Hot Dogs For Memorial Day
The Memorial Weekend in the US has billions of hot dogs being devoured by hungry Americans who are in full holiday spirit. Though other occasions such as the Independence Day, Labor Day, etc, warrant the same spirit towards the delightful snack, we are talking about hot dogs regarding the Memorial Day here. There is no doubt that Americans enjoy biting into a snappy frankie any time of the day, so it is obvious that there cannot be just any one hot dog to satisfy the hunger. We bring to you 10 such popular hot dogs from around the country, which you can make and enjoy this Memorial weekend.
The most common form of hot dog that is often sold on streets consist of various trimmings of meat, usually beef or pork, along with preservatives and condiments which may vary from mustard to stewed onions in tomato sauce or ketchup .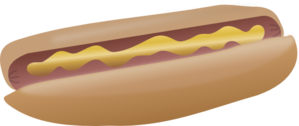 2. Weiner Joints
The Weiner joints usually make use of pork and are available all over New York as well as in the neighboring Rhode Island. The dogs may also contain beef along with meat sauce, celery salt and mustard served within steamed rolls which have been cut from the side.
3. The Hots
Available in either red or white, this popular form of dogs is simply known as the Hots. Rochester is famous for this variety with the Hots being an important part of its classic dish, garbage plate which contains fries, meat sauce and potato salad along with the burger wrapped hot dogs.
4. Kosher Style Dogs
A favorite of the Jewish community in the US, this hot dog is completely made with beef in a natural casing, lending the dog a delightful crunchiness. It is served on a hot griddled bun topped with a meaty sauerkraut and a dash of mustard.  
5. Chicago Dog
A gourmet fare consisting of the frankfurter on a poppy seed bun that looks as if it has amassed an entire garden on its way! Onions, pickles, mustard, relishes, peppers and tomato halves are added to the snack to give it a sumptuous and healthy twist. No tomato sauce or ketchup with this one please!
This one is simply a tribute to the Reubens sandwich and consists of a tasty sauerkraut placed on a bun liberally sprinkled with sesame seeds. A melting of Swiss cheese on top completes the dog which forms the mainstay of the screaming crowd as they get to cheer their home team, Kansas City Royals at the stadium.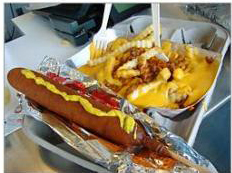 7. Coney
Named after its place of origin, the Coney island, this hot dog is actually a Michigan frank completely smothered with beef chili and a raw white onion along with yellow mustard. A liberal sprinkling of Cheddar cheese atop the Frankie helps to make every Memorial Day celebration worthwhile.
8. Chili Dogs
A popular hot dog of Los Angeles, this comes with beef chili, mustard and onions served on a steamed bun. While a form of chili is necessary to convert the simple dog to a chili dog, there are virtually no restrictions when it comes to other ingredients. A jalapeno dog, bacon chili cheese dog or spicy dog are all sold under the name of chili dog.
9. Puka Dog
This exotic hot dog is believed to have come from the Hawaiian Islands. However, the snack is nothing more than a Polish sausage in a large bun which has a hole or puka. The entire dog is assembled and toasted before serving while the sauces accompanying it may range from a sweet mango chutney to a garlicky relish and may even be super hot  according to your taste.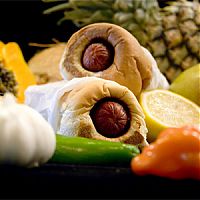 10. Connecticut Varieties
Home to a variety of hot dogs, the state of Connecticut boasts of an unlimited range from the grilled and split franks to the chili dogs and Orleans Dogs. The deep fried variety is extremely popular though with all its trimmings of sauerkraut, chunky bacon pieces, mustard, and relish all assembled on top of a well toasted bun.
Other Articles You May Like To Read:
3. What Celebs Recommend On Memorial Day
Image Courtesy: Cheerall, suntimes, davidseah, flickr, somethingwedreamed, cartographia, naughtyhotdogs, therovingranter, flavorama, thehotdogtruck, clipart-for-free 
Top 10 Hot Dogs For Memorial Day