Let Us Party Cos It Is Animal Crackers Birthday

18 Apr 2012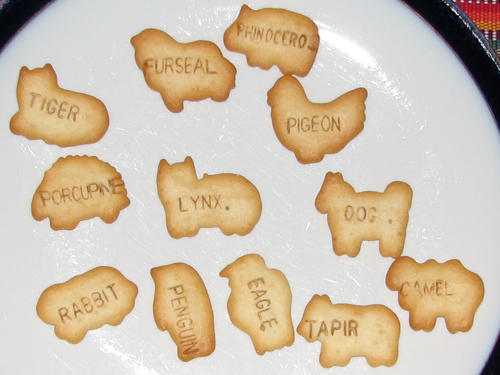 All of us would have relished animal crackers as kids. And, the good news is that you can enjoy these goodies to your heart's content now because it is the Animal Crackers  birthday today! Some interesting additions to the tasteless, dry, and small cookies make them  all set to celebrate their b'day. Catch up with some interesting trivia on these crackers…
The Humble Beginnings…
The animal cracker are over 100 years old; yes, they came into existence in 1902 when National Biscuit Company came up with Barnum's Animals – the crackers to pep up holidays. Nevertheless, the name does not have anything to the renowned P.T. Barnum…
These crackers got a boost when Shirley Temple cracker her famous dialogue - "Animal crackers in my soup...", in her 1935 film Curly Top.
From 1902 until today, the number of animals that join the Barnum herd has grown, with the current number approximately about 54. You get animals of all sorts – bison, camel, elephant, tiger, zebra, lion, monkey, koala, and many more.
How Do I Celebrate?
The simplest way to celebrate this special moment would be to buy a pack of the animal crackers and enjoy it with your friends along with tea. Or, how about baking a few animal cookies t home! It is quite easy and you get various cookie cutters also in the market!
To make the moment more enticing, you can even frost the cookies with simple cream cheese frosting, and color the animals. Get your kids involved to make the moments more exciting!
How about some nutritional trivia about animal crackers now?
Since we are talking about Barnum animal crackers, let us look at the nutritional facts about these. One serving (17 crackers – 31 grams) of these goodies renders 140 calories, of which 35 calories come from fat. These goodies come free of trans fat and offers 1 gram of dietary fiber and 2 grams of protein.
So, that is indeed good news. So celebrate the Animal Crackers Birthday with pomp and fervor!
Happy birthday, animal crackers!
Image Credit: fancyisafunword.blogspot.in, poweredbybirds.com 
Let Us Party Cos It Is Animal Crackers Birthday