National Eggs Benedict Day – An Interesting Excuse To Relish Eggs

15 Apr 2012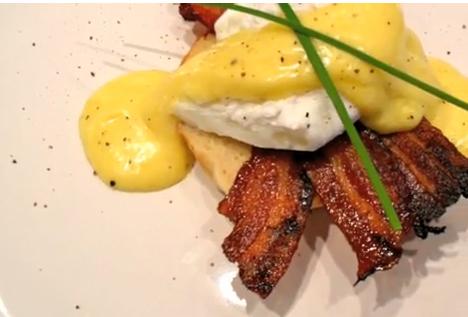 The National Egg Salad Week got over just two days back and Monday is here now. However, there is a reason to celebrate this day and feel charged up. It is the National Eggs Benedict Day. There are countless variants of the sinfully delightful Egg Benedict and any of them will do for celebrating the day in style. Nevertheless, the traditional version comes with halved English muffins toasted and topped with two poached eggs, Canadian bacon slices, and of course, the Hollandaise sauce. Before getting started , let us catch a glimpse of some interesting trivia about this brunch delight!
Who Invented Egg Benedict?
This is definitely an interesting research topic, but unfortunately the debate still goes on. One group credits Mrs. LeGrand Benedict – she used to enjoy her breakfast at New York City's Delmonico restaurant regularly during the 1890s and one day, she finally wanted something new and the chef presented her this new egg dish.
Yet another group credits Mr. Lemuel Benedict for the invention for this dish during the same period. It is believed that this Wall Street broker, one morning, had a terrible hangover and ordered for something quite similar to the traditional recipe of this dish. The combo was new and the chef gave it a twist – the broker had ordered toast and the chef used muffins instead of toast and Eggs Benedict was born!
So, whichever the actual reason be, just go ahead and enjoy the dish!
How Do I Celebrate?
As I said before, this dish comes in countless variants – the traditional, Country Benedict [a combo of American biscuit, sausage patties, and country gravy and fried eggs of your choice], or an Eggs Florentine, where spinach is sued instead of ham. So, the choice is yours. If you are opting for the traditional stuff, then you can pair it with an unoaked chardonnay, Pinot Blanc, or perhaps a glass of champagne! Delightful and luscious!
Do you want to spice up your celebrations? There are many different versions of the brunch staple at various places!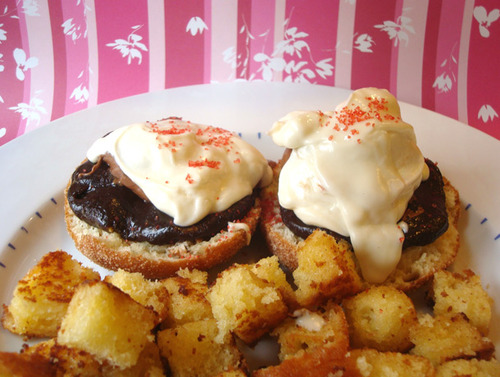 Check out at the new Weekday Brunch at Elate's to treat yourself to Chef Michael Noll's unique Country Fried Pork Belly Benedict $13 or M Café. M Café offers you to two variants – a steamed tomato and kale served with soy Hollandaise over a whole grain baguette or the one with tempeh bacon or Scottish Smoked Samon.
If you want to celebrate this day with a lunch or dinner, then Ray's and Stark Bar at LACMA should be your destination.  They offer Benedict Burger, priced at $19. An egg with sunny side up, watercress, Gruyere, Red Onion Confit and Bearnaise Sauce served alongside their niche Brioche Bun! Voila!
For all those with a sweet tooth, you may try the Cadbury Creme Eggs Benedict to celebrate this day!
How about some nutritional facts now?
A serving of Eggs Benedict [an extra large egg is used] gives you 301 calories. Off these, 164 calories come from fat, 71 calories from protein, while carbs render 66 calories!
What is your way of celebrating National Eggs Benedict Day? Do tell!
Image Credits: ifood.tv, thisiswhyyourefat.tumblr.com
National Eggs Benedict Day – An Interesting Excuse To Relish Eggs