Melt Oodles Of Cheese On National Cheese Fondue Day!

10 Apr 2012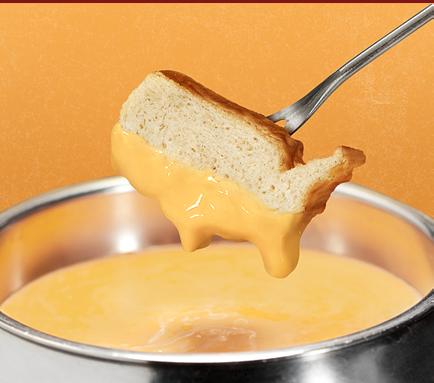 Are you getting bored of catching up with the same routine everyday? Take a break, melt some cheese, and celebrate the National Cheese Fondue Day. Yes, April 11th is dedicated to this lovely dish that has its origins in Switzerland. Lets just get into celebrating this marvelous day. And pronto! Here's some info on the Day that you are about to celebrate.
What Is Cheese Fondue?
You  might have relished this as a classic appetizer at parties. However, how many of you really know about it? Let us take a look at the facts associated with this yummy dish. The very first preparation of this dish included eggs and cheese, which slowly changed over  time. Finally during 1875, the current recipe was published.
Fondue, I agree, is a French word that means to melt. Nevertheless, the present version owes its credit to Switzerland as it became the national dish of that nation. The Swiss prepared fondue in a caquelon, the traditional heavy earthenware.
A typical fondue contains strong Swiss cheese such as Emmenthaler and Gruyere or sharp ones, may be cheddar plus spices, wine or brandy, cream, and milk. These ingredients were used to enhance the flavor and texture of the fondue.
How Do I Celebrate This Day?
Pick a recipe of your favorite cheese fondue, prepare it at home, and invite your friends for a fondue party! You can pair it with a Chardonnay or Sauvignon Blanc for a more zestful event! Or ask your friends to get various types of bread such as baguettes or French to relish with the fondue! Enjoy! make sure you have some cheese fondue recipes for the kids as well!
Hey, I remember something! Melting Pot is celebrating this day with pomp! Yes! You heard me right! Visit the Melting Pot in King of Prussia, PA. They have already started giving away free fondue for two from April 9, 2012! The offer is valid until April 12, 2012!
"We are leveraging a nationally recognized day (April 11) to introduce our brand to new guests, show our appreciation to returning guests and share the unique dining experience we offer" – this is what Cindy Haynes, the senior vice president of marketing for Front Burner Brands has to tell!
Check the Melting Pot website on April 11th and win a cheesy gift. So locate a Melting Pot near you and enjoy the fondue!
How Nutritious Is Cheese Fondue?
One cup of cheese fondue provides 492 calories. 30.59 g of protein, 29 g of fat 8.11 g of carbohydrates – these make up the 492 calories. This does sound a little heavy dose for those who are on diet! Nevertheless, you can still enjoy this day if you are willing to choose apples or radishes to go with your fondue instead of your favorite ham or bread.
If you are pregnant, then please be a little careful. Do not opt for this dish if you are not sure of the ingredients and alcohol content!
So, melt you cheese and start celebrating National Cheese Fondue Day right away!
Image Credit: nationalcheesefondueday.com, fastfondue.com.com
Melt Oodles Of Cheese On National Cheese Fondue Day!