Healthy Alternatives For Easter Candies

29 Mar 2012
Apart from the scrumptious food on Easter day, there are loads of sugar sunken sweet candies that are a part and parcel of Easter celebration. These colourful bright candies  are quite a nightmare for the weight watchers. Thankfully, we have many healthy alternatives that are easy to make too. Believe me, they taste just as good as the sugary ones and are better for your health. This blog tells you how to enjoy the traditional candies by making some wise changes.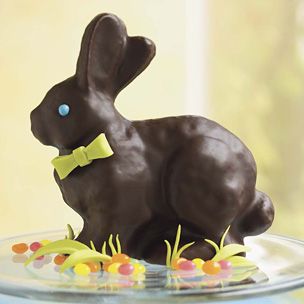 No one can resist chocolate bunnies that simply melt in the mouth. They are normally made with cocoa butter, sugar and cocoa powder that are melted together and then placed into bunny shaped molds. Make a healthy version by reducing the amount of butter and sugar by half. The result is a much healthier dark chocolate version of the Easter bunny which can also be consumed by a diabetic without much worry.
Serving size- 1 medium bunny
Calories- 106 k cal
Protein- 3 g
Fat- 6 g
Carbohydrates- 10 g
2. Dry Fruits
Not only do they have a lovely chewy texture, they are rich in natural fruit sugar and are minimally precessed. They make great alternatives to jelly beans in the candy basket. Dried apricots, raisins, apples and even pineapple bits are good options which even the kids will love. They can also be stuffed into an Easter egg.
Serving size-1 ounce
Calories- 69 k cal
Protein- 0.7 g
Fat- 0.14 g
Carbohydrates- 18 g
Easter eggs! The wonder of Easter can now be made at home.  All you have to do is mix together rolled oats, wheat flakes, sunflower seeds, mixed nuts, honey and brown sugar the way you usually do to make granola bars. Simply shape them into eggs instead of the usual bars. While the nuts add to the calorie content, this is by far a better alternative to the sugary eggs in the market.
Serving size- 1 medium Egg
Calories- 180 k cal
Protein- 6 g
Fat- 13 g
Carbohydrates- 10 g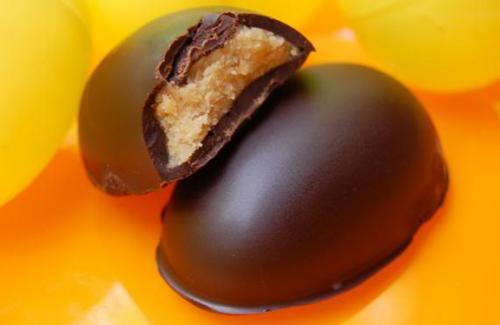 They can be made at home and are a great replacement to the store brought ones that have tons of sugar and dangerous dyes. The main ingredient peanut butter is rich in good fat and protein. Reduced amounts of sugar and butter in these eggs make it a healthy treat.
Serving size-1 small egg
Calories- 180 k cal
Protein- 2.7 g
Fat- 9 g
Carbohydrates- 20g
These can be made at home using whole wheat and dark chocolate bits. To make them more attractive, they can be molded into interesting shapes that children love. Stir in some apple sauce and cinnamon in the dough and you will have everyone asking for seconds.
Serving size-1 cracker
Calories- 30 k cal
Protein- 0.48 g
Fat- 0.71 g
Carbohydrates- 5.38g
Hope this healthy candy basket will make your Easter more special and memorable while doing a big favor to your health. Have a blessed Easter with your family and loved ones.
Image Credit: ifood, happyhomefairy, californiafruit, dyingforchocolate, inspirebohemia, weeliciuos 
Healthy Alternatives For Easter Candies