Jewish Leaders Lose Sleep Over Drinking Menace During Purim
9 Mar 2012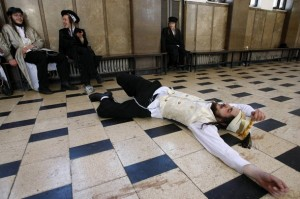 The Jews have been left happy as well as dreadful as their festival, Purim, just passed by. It is the recent trend associating Purim with drinking that is giving the Rabbis sleepless nights all through America. The Jewish holiday, which commemorates the survival of ancient Jews against extinction, has a darker side too. This side gets revealed when the Jewish people, especially young students are found drinking in excess, almost at the scale of drinking associated with Christian festivals such as Halloween.
1) The Darker Side
This Jewish festival conjures up two contrasting images – one is of young Jewish children getting all dressed up, exchanging gifts and candies and the other is of young Yeshiva students indulging in boozing. In case of excessive drinking, there have also been reports of drunken driving. However, that is not the only cause of worry. One Rabbi, who has voiced his concern on more than one occasion, says worriedly, "Scenes of young Torah scholars rolling in puddles of their own vomit, totally incoherent, uttering obscenities that they would be ashamed to pronounce if they were sober." It is this "ugly and despicable behavior" that has the Jewish elders feeling extremely worried about the future of Purim.
2) The Drinking
The root cause of the tragic side to Purim lies in "Mishteh," which is the age old tradition of drinking during this festival. The passage in Talmud, more often than not considered to be an associated practice of an invitation to indulge yourself, is also partly responsible for the un bridled drinking. The twist in the tale is that the young Jews take this invitation to "overindulge" themselves till they are no longer able to distinguish between sobriety and drunkenness. A clinical professor, who is concerned at this deterioration of values in the community, says, "It's an endorsement of binge drinking, and for teenagers and adolescents, it's a message. If it's OK to drink on Purim, why isn't it OK to drink like that on other days? On Purim, you drink until you're drunk, basically."
3) The Alcoholism
Purim is definitely bad news for the community, which has only recently started registering the possibility of dangers of alcoholism. Jonathan Katz, director of the Jewish Community Services at the New York-based Jewish Board of Family and Children's Services, explains this fear, "The whole connection with the drinking to excess, and the holiday of Purim, is based on misreading of the rabbinic texts, and that's kind of been used as an excuse. It is quite a serious issue. I think that most responsible Jewish groups regardless of denominations are becoming increasingly aware of that and making efforts to try to limit the danger or the risk involved."
4) The Drinking
It is not Purim alone, but other Jewish ceremonies too, where drinking is a part of the whole celebrations, like the four cups of wine at the Passover seder. Therefore, the drinking problem is a little more extensive. The organizations like The Orthodox Union, JACS, and elders like Rabbis are pitching in with their efforts to limit the menace of drinking with actions like "A Purim Safety Alert."
Over-consumption of alcohol is bad for your health and to indulge in it under the garb of a religious occasion is nothing short of living in denial. Therefore, make a vow today to break free of the shackles of alcoholism because it doesn't give you anything good in return except embarrassment.
Other Articles You May Like To Read:
1. Over Consumption Of Alcohol Is Bad For Health
2. 10 Wonderful Purim Menu Ideas
3. 5 Foods You Can Give As Gift For Purim 
Image Courtesy: frumsatire.net
Jewish Leaders Lose Sleep Over Drinking Menace During Purim