How To Prepare Thandai For Holi

29 Feb 2012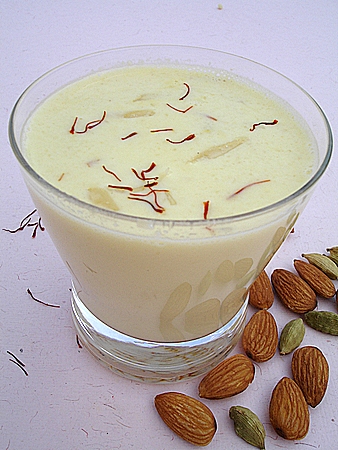 Thandai is a refreshing cold beverage made with sweetened milk mixed with a number of ingredients. It is believed to keep the body cool and is enjoyed across the Indian subcontinent. Addition of sweetmeats enhances the taste further, a standard practice common during the auspicious Hindu festival of Holi. Guests are often served with tall glasses of Thandai along with a variety of sweets after playing with colors during the spring festival (Holi) of India. Small balls of Bhang or cannabis are also regularly slipped into Thandai for an intoxicating effect. The resultant effect is often the cause for much merriment .
The method of mixing a proper glass of Thandai requires practice and most households have a secret  ingredient that is guarded zealously. A regular Thandai is not too difficult to blend though and you can easily try your hand at it by following the instructions below:- 
Ingredients
Milk
Sugar
Aniseed
Peppercorns
Saffron Strands
Poppy Seeds
Fresh Rose Petals
Dried Watermelon Seeds
Sugar
Almonds
Getting Ready
Boil the milk in a pan and let it cool for some time.

 
Meanwhile, soak the almonds, poppy seeds, watermelon seeds and aniseeds in at least 2 cups of water.
Making
Grind the soaked ingredients to get a smooth paste.

 
Add water to it

 
Strain using a muslin cloth.

 
Extract the liquid in a vessel.

 
Mix in the powdered cardamom, saffron, sugar and peppercorns.

 
Blend it well with milk. 
Serving
Decorate with rose petals and serve it chilled.
Check out the prcedure once again by watching the video below.
powered by ifood.tv
Image Credit- bharatiya-khana-khazana 
How To Prepare Thandai For Holi