5 Popular Desserts For Cinco De Mayo
Check out some of our favorite desserts for Cinco de Mayo, including some traditional, and not-so-traditional recipes that are perfect for any festive get-together! 
Tres Leches means three milk and the name is given to this dessert due to the inclusion of evaporated milk, whole milk, and sweet condensed milk in its preparation. Just 35 minutes is all you need to bake this ultra-moist cake!
2. Flan
Flan, also known as Creme Caramel or Caramel Custard, is a rich, custard dessert that comes with a layer of soft caramel on top. Once again a classic Mexican dessert, it is quite popular as a dessert choice for Cinco de Mayo. 
3. Dessert Empanadas
Be it coconut empanadas or chocolate chip cheesecake empanadas, these crescent shaped, deep-fried delights are sure to become an instant hit at any Cinco de Mayo get-together. Serve these empanadas warm with ice cream and a drizzle of chocolate sauce. 
4. Churros
Churros, whether baked or fried, are the perfect bite-sized desserts for your next Cinco de Mayo party! They are the perfect balance of cinnamon and sugar, with a fluffy interior and a crispy exterior!
5. Champurrado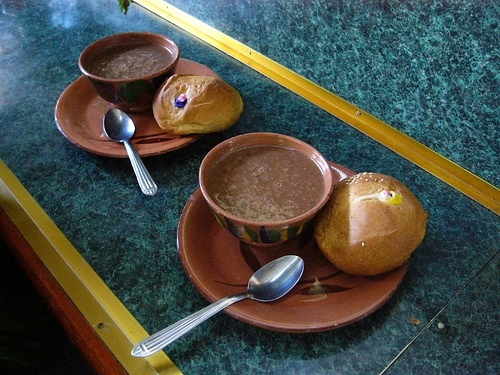 This chocolate drink makes for a classic Mexican dessert. Rich and sweet, the fusion of chocolate, milk, and aniseed is remarkably delicious. Make sure you serve it hot! A garnish of fresh cream gives it an added richness!
These are some of the popular desserts for Cinco De Mayo. What desserts will you choose for this celebration?
Image Credit: ifood.tv, thecupcakeblog.com, lawyerloveslunch.com, adventuresinshaw.files.wordpress.com
5 Popular Desserts For Cinco De Mayo