Mardi Gras Cake – A Not So Subtle Cake
21 Feb 2012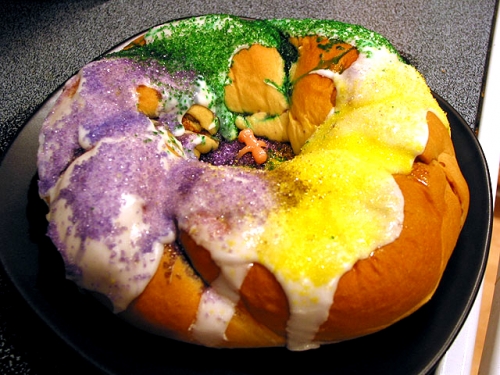 There is nothing subtle about the King of all cakes, the Mardi Gras Cake because of the vibrant shades of green, gold, and purple, in which it is covered. The cake is the highlight of the Mardi Gras festival celebrated throughout America, more so in New Orleans. This King Cake may look gaudy to some, but every slice is flavorful and if you want to make one at home, you can do so with this recipe. The cake has a delightful story behind it as wel. Just read on for the interesting details
1) An Unusual Cake
Those who look at this cake for the first time find its wreath shape, dazzling colors, and creative fillings and odd combination. More so the plastic baby wrapped inside the cake, especially if someone accidentally bites into one. The gaudiness of colors into which the cake is bedecked is necessary because it has to compliment the colorful season of Mardi Gras and the festive parades taken out during this season. The unusual cake is the perfect compliment to the Catholic tradition, which sees bands, revelers hidden behind colorful masks, and flying beads.
2) Mardi Gras Season
This festival is basically a culmination of the Carnival season, which extends from January 6 every year to the start of the Lent season. The festival begins with the Epiphany Day, also known as the Three Kings Day and ends with the Fat Tuesday, interestingly called the 'last hurrah.' The cake is in keeping with these traditions and is symbolic of cultures as variant as the French gâteau de rois and Mexico's rosca de reyes.
3) The New Orleans' Cake 
It is believed that no city celebrates Mardi Gras like New Orleans. Experts say that the King Cake is found in its best form only in New Orleans and it is made in a true Catholic tradition, complete with the colors – green for faith, gold for power, and purple for justice. The plastic baby, symbol of baby Jesus, is hidden inside the cake and whoever gets the plastic baby along with his or her slice of King cake is crowned the King or Queen of the Mardi Gras party. More importantly, that King or Queen is entitled to the responsibility of bringing the King Cake for the next party.
4) So Many Cakes
New Orleans surprises its visitors with thousands of varieties of King Cakes, which are baked every year. City residents, who are away from home can even order these cakes by mail while there are bakeries, which facilitate overnight delivery too. New Orleans is famous for its King Cake parties, which are held everywhere, from offices to homes, from shopping centers to classrooms.
5) More to the Cake
The Mardi Gras cake holds an old tradition behind itself and it is represented in the story of the three Kings or the three wise men, who brought gifts to the baby Jesus after his birth. While health fanatics may term this icing and filling-laden cake unhealthy for you, there are healthier versions too, which are vegan or use low-fat icing.
The King Cake history is as colorful as it is unusual. So, as you celebrate Mardi Gras or watch it being celebrated around you this Tuesday, make sure that you partake a slice of history with it. Here are some good reasons why you should indulge in baking a Mardi Gras cake this season.
Image Courtesy: ifood.tv, eatdallas.blogspot.in
Mardi Gras Cake – A Not So Subtle Cake