$55,000 For A Cupcake, Are You Sure?
13 Feb 2012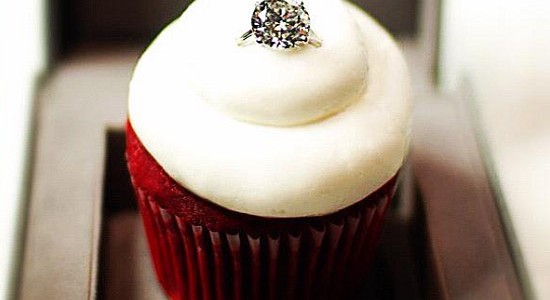 Cupcakes are extremely popular, especially on special occasions like weddings, engagements, and birthdays. But would you pay $55,000 for a cupcake? Probably not! But what if you were told that stuck in the cupcake frosting was an eight-carat engagement ring from the Warwick Jewelers? Then you may be more willing, right?
1) Surprise Idea
The Cupcakes Gourmet, a Philadelphia store selling cupcakes, has a new treat in store, the Sparkling Red Velvet Cupcake. It is not because of any edible gold leaf, expensive ingredients, or white truffle shavings but because of a diamond ring stuck into the icing, which makes this cupcake a perfect proposal tool. Imagine! Your beloved has gone down on a knee with this delicious cupcake and, not to forget, the sparkling ring on top of it, in his hand! Now, can any other proposal better this?
2) Love Tastes Like This
The store owner and executive pastry chef, Maki Garcia-Evans is elated at the new treat. Evans says, "There's no sweeter way to pop the question to your significant other than with a dreamy cupcake with a diamond engagement ring sitting on top. A diamond is worth a thousands words, but with a cupcake, it is worth more. It suits our store's slogan, 'Love Tastes Like This.'" For starters, the Warwick Jewelers will grant 15% off on select engagement rings purchased under this offer.
3) Flavors, Anyone?
The store has brought out this dream of a cupcake in red velvet flavor but wouldn't it be better if they come up with other flavors too, like triple chocolate, blueberry, or chocolate mousse? Well, if this cupcake garners enough attention and buyers, that might be possible too.
4) The Unhappy Lot
Not everyone is gushing over this Cupcake treat as some people feel that all this is a wastage of money and flimsy show of emotions. One such women, who commented online, said, "Why do you need to bake a cupcake and then put a ring on top of it? Just put the ring on your beloved's finger and that's it. Why this sham display of emotions?" That may be an individual opinion but the store is confident that their cupcake will create a storm this Valentine's Day and for many more days to come.
Popping a question with a cupcake may not be a novel idea but it is a timely one, what with Valentine's Day almost upon us. So, you are asked again – Would you pay $55,000 for a cupcake? Probably yes, this time! This cupcake is unusually helpful if you already do not know how to propose on a Valentine's Day.
Image Courtesy: bangstyle.com
$55,000 For A Cupcake, Are You Sure?