Impress You Sweetheart On Valentines Day With A Heart Shaped Pizza
13 Feb 2012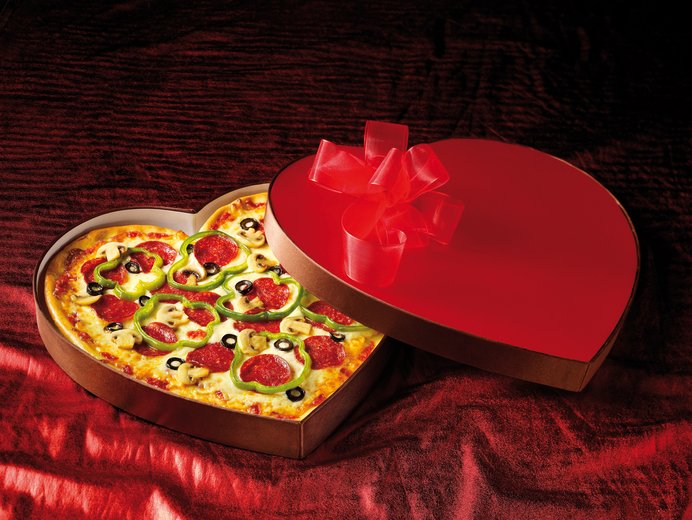 While chocolates, candies, cakes still are the most sought after Valentines Day edibles, heart shaped pizza has carved a niche for itself among the various goodies too. The search results from Google  shows an amazing 230% increase in its search statistics for this particular item since January 2012. And, the aftermath? The pizza vendors across the world are now trying to reap the maximum benefit out of this. This quirky trend has something in it which is sure to bowl over your sweetheart.  I have put across a list of 10 places from where you can either order this Valentines' day gift  or simply pick it up. 
Top 10 Heart Shaped Pizzas For Valentines Day
1. Papa John's Pizza
There is no better way to say "I love you" than serving a Papa John's heart pizza. This annual tradition was started by this pizza outlet 3 years ago, and ever since they have witnesses a steady surge in the demand for this V-day goodie. Available on February 14th, these pizzas with premium cheeses will be available in about 21 types across the 2,800 locations in the U.S.
2. Valentine Heart Shaped Pizza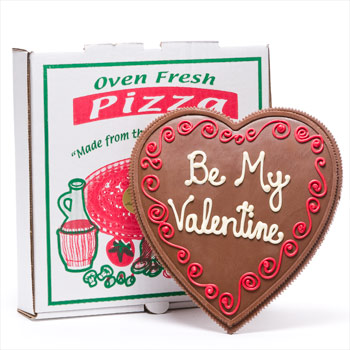 A sweet twist to the pizza, this decadent delights come from The Chocolate Pizza Company. Served in a pizza box, these Cupid Day delights are prepared from the regal blend of English toffee and chocolate. A 1-pound chocolate heart drizzling with white chocolate, this is the best way to let your partner know how dear he/she is for you.
3. Lou Malnati's Pizzas
Put up in Chicago, Lou Malnati's Pizzeria offers a deep dish pizza shaped to fit in the Valentine day requirement. A tradition which has been present since time immemorial, these pizzas are inevitable delights due to three key reasons – traditional recipe, excellent quality, and a magnificent value for the cost you pay. So, add a sentimental touch loaded with love with these pizzas.
4. Kim's Pizza Place Pizzas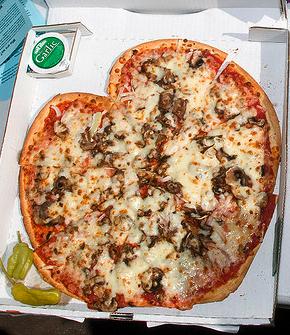 Propose to person who stole your heart in St. Louis Style with a pizza shaped into a heart from Kim's Pizza Place. A piping hot and steamy delicacy, these are available in Kim's signature and classic toppings, adored by the young and old alike. Make sure that you place the order one day earlier so that you get it delivered on time.
5. The Pizza Shop
Located on the West Broad Avenue, this pizzeria will also be selling heart-shaped pizzas for this romantic day. "Just to be different. Instead of having round, to do hear. Valentines. Love. Throw in a heart shaped pizza. Very romantic. Yes. Little Lady and the Tramp.  Ha, Ha," says Fran Bragg, the owner of this pizza outlet. You will have to pay a handsome extra buck for the romantic evening, but it is worth every extra dollar spent.
6. Brothers' Pizza Company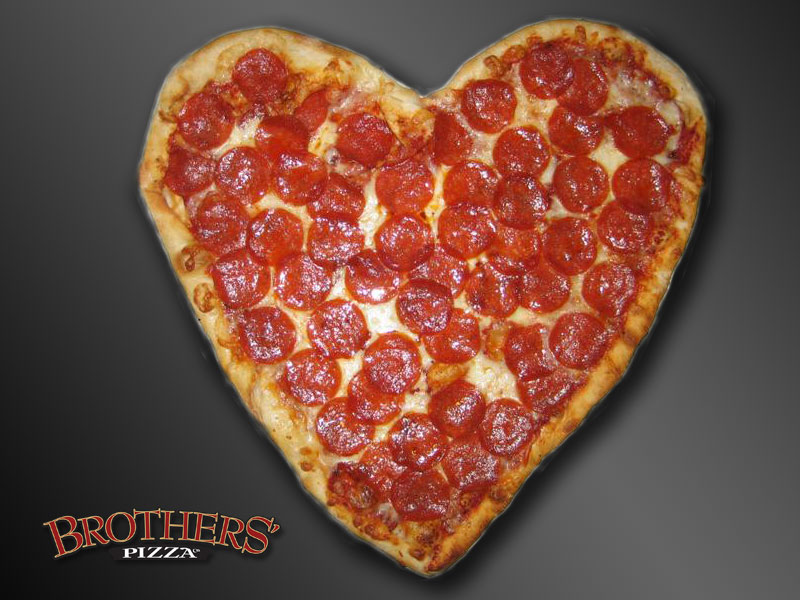 This pizza outlet offers these Valentines' day treats in assorted toppings. The customers can choose from about twenty five different toppings, and that too in the combination of their choice.
7. Randy's Premier Pizza
The heart pizzas from these outlets are quite popular in Chicago. Available as pan pizzas, thin crust, Deep Dish, or stuffed pizzas, you can choose the toppings as well as sizes according to the number of diners for this romantic evening. As per the outlet, the most popular pizza is the 30" Super Heart Pizza. The outlet has home delivery and take away options.
8. Edwardo's Natural Pizza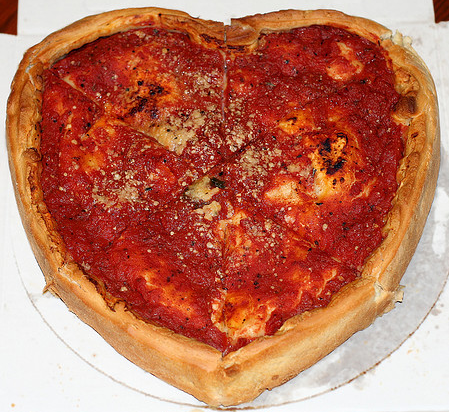 Go natural and romantic this sweet day with a deep dish heart pizza offered by Edwardo's. True value for money, you can call and order the pizzas according to your convenience.
9. Boston Pizza
An Ontario-based pizzeria, you can pick the heart shaped goodie from across its 345 outlets on the V-day. Available in individual, small, and medium sizes, the pizza base is available in two variants – classic and multigrain. So, pick the one of your choice and top it as you like.
10. Pizza Pizza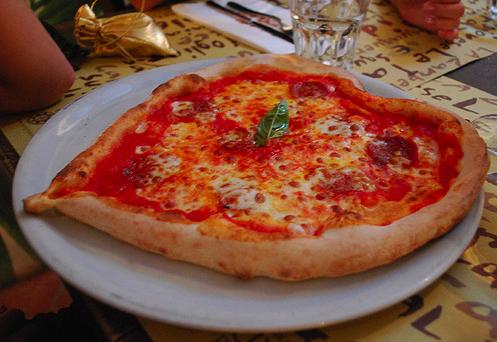 Based in Toronto, this pizza outlet offers a Valentine's Veggie Delight heart pizza. Topped with green peppers, Roma tomatoes, and authentic mozzarella cheese on a thin, crunchy, heart-shaped crust, each of this pizza serves 2 to 3 people. "Sharing a special meal is an important part of this occasion, and we're excited to be able to help with Valentine's plans across the country," says Pat Finelli, chief marketing officer for Pizza Pizza.
While these were ten outlets where you can order your pizza, the good news is that you can bake a pizza at home as well. Read on to know how you can…
How To Make A Heart-Shaped Pizza At Home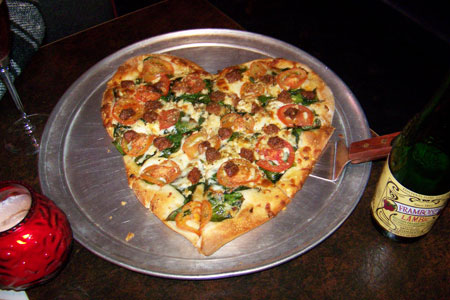 It is not a very mountainous task to prepare a pizza in the shape of a heart. Even if you are an amateur cook, this dish is good enough to wow your sweetheart. So, here is how you can make one…
1. Roll the pizza dough and toss as you do normally for other pizzas.
2. Now, to shape into a heart, you have to pinch in the dough so that it could be drawn in, giving two rounded ends and a central dip. If you find this difficult, you can use a cutter and cut the dough into the shape of a heart.
3. Adjust the dough base so that the end appears pointed like the heart bottom.
Now, that your crust is ready spread the pizza sauce and throw in the toppings of your choice. To catch a glimpse of how to make homemade heart pizza, play the video…
powered by ifood.tv
Whether you order a heart shaped pizza or prepare one at home, it would definitely be a wonderful way to impress your sweetheart! Have a great day with these Valentine treats!
Image Credit: wikihow.com, newsesource.com, brotherspizzacompany.com, flyingpie.com, zabars.com
Video Credit: ifood.tv
Impress You Sweetheart On Valentines Day With A Heart Shaped Pizza