Top 5 Champagne For Valentines Day
8 Feb 2012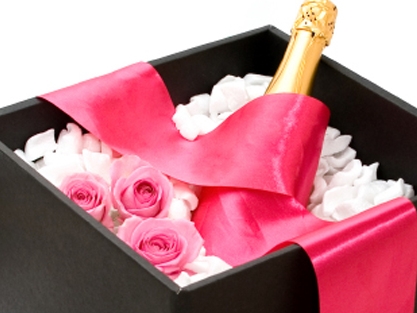 Champagne, chocolate, and the air filled with love – nothing can compare with this! The choice of champagne for Valentines Day depends on many factors. Choose a pink champagne if you are gifting one to your lady love. For the male species, there are choices galore! Here are 5 such champagnes, from the inexpensive  to outrageously priced ones, which you could become your Valentines' day gift this year…
The 5 Best Valentines' Day Champagne Choices
1. Chandon Rosé
Hailing from the house of Domaine Chandon, a branch of the renowned Louis Vuitton Moet Hennessy, this Californian champagne is priced at $20. Slightly sweeter, this pink sparkler is sure to wow you sweetheart, and zest up the romantic mood!
2. Domaine Carneros Brut Rosé
This is a rose champagne with a pale golden hue with a slight pink tint. Loaded with the succulent ripe pear and peach flavors in the front and a deep, tart green apple finishing, this fizzy drink is delicate. Available at a cost of $35, this drink is worth for the money.
3. Cuvée des Moines Brut
Produced by Besserat De Bellefon, this straw colored champagne with tints of copper is a non-vintage one. Loaded with a variety of rich aromas, yet subtle and delicate flavors, this exquisite wine comes with a silky structure. While the nose is overwhelmed with floral aromas of acacia and honeysuckle, the palate experiences the fruity touch of pears and apples. It comes at a cost of $50.
4. Alexandra Rosé 1998
Laurent-Perrier offers this deep salmon pink wine, that goes perfectly well with the winter sunset hue. Feel the smell or orange and red berry while treating your palate to subtly complex and toasty flavors. A full-bodied wine, it goes perfectly with a turkey meal and cranberry sauce. Do not hesitate while you pay $150 to experience a lingeringly long finish.
5. Fleur de Champagne Rosé 2002
Wonderfully packed delicately golden pink vintage Champagne from Perrier-Jouet! The fresh aromas of pear and citrus are complemented perfectly by the honey and brioche notes. Refreshing and silky, this subtle and delicate wine goes to a nutty finish, that lingers on. You won't be reluctant to pay $200 to impress your partner, will you?
So raise a toast for your love and loved one with a glassful of one of the best Champagne for Valentines Day! Wishing you a romantic and love filled day!
Image Credit: thedrinkshop.com, allny.com
Top 5 Champagne For Valentines Day