Weird Food Gifts For Your Valentine
8 Feb 2012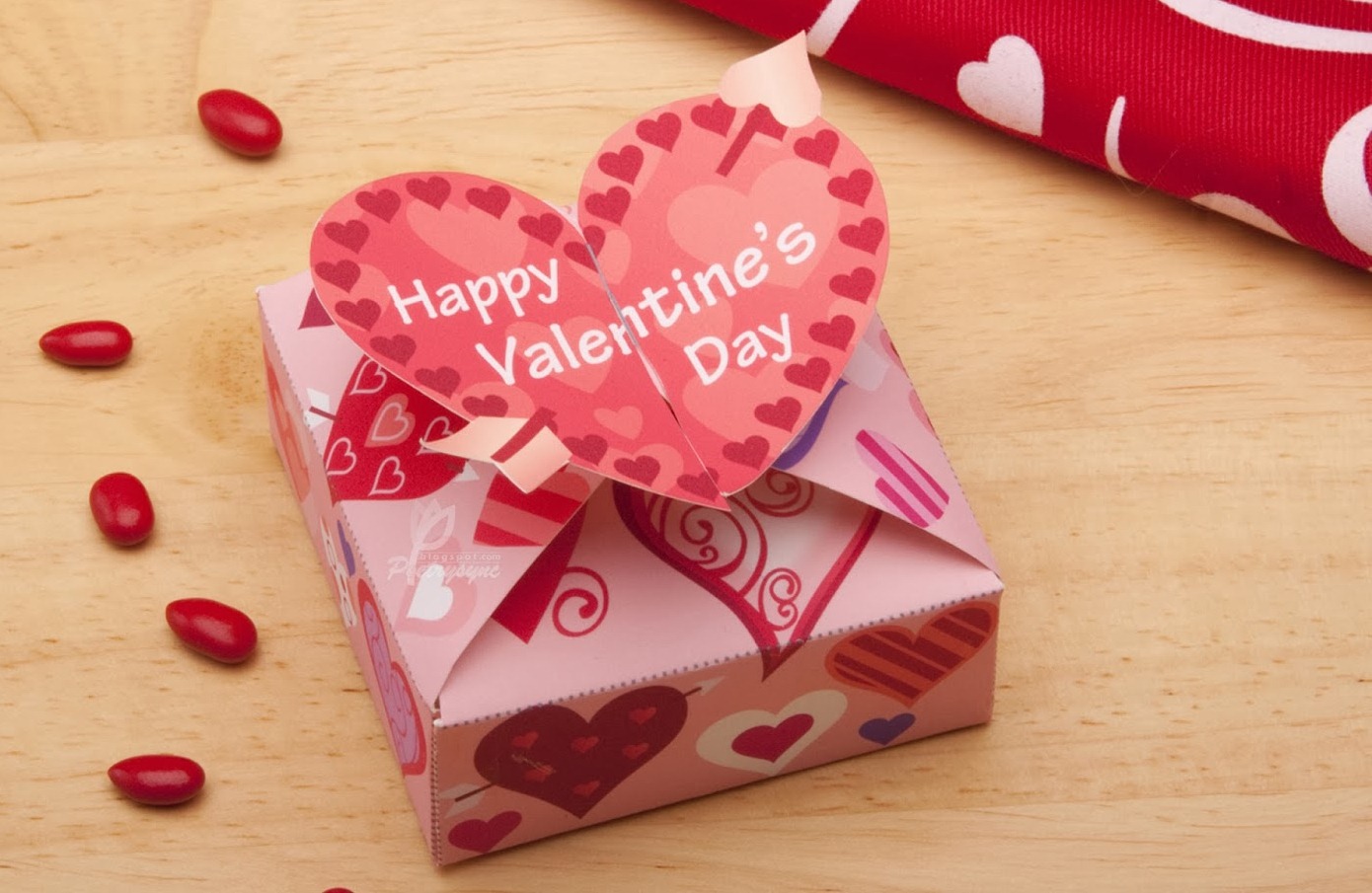 When you are planning to gift something this Valentine's Day, you may want to give something different and surprise your sweetheart. However, do keep in mind that the gifts you give are so powerful that they can make you win her heart or simply lose it. Here are some of the weird food gifts that may not be appreciated by your Valentine. So if you want to play safe, you may want to give these a miss! But if you are determined to gift one of these anyway, then be prepared to face the consequences - good or bad!
1) Snake Wine
Horrible, isn't it? But there are websites offering you a package in case you want this snake wine delivered to your Valentine this year. In fact, they specifically offer Cobra wine and Scorpion wine. These bottles are a horrifying image in themselves, as you can see a cobra holding a smaller snake in its mouth, both floating slowly in a transparent concoction. Now, don't get it wrong. Snake wine or Cobra liquor is believed to be a potential aphrodisiac in Southeast Asia, Southern China, and Vietnam, so may be, there is some substance to this but you need to be sure that your beloved is as convinced about it as you are.
2) Love-Themed Vegetables 
Do you consider buying these for your ever health-conscious girl? Well, don't! Vegetables are something she can get for herself. Why does she need the heart-shaped ones from you? 
3) Sympathy Gifts
We understand that you felt bad when your sweetheart fell, but that doesn't mean you have to give her a gift like this! Never try to dig old wounds and give a sympathy gift, for it will be a great flop!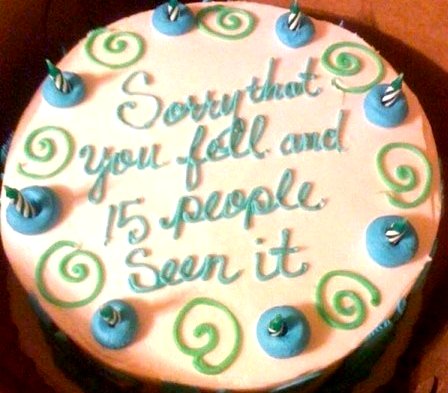 4) Human Heart Cakes
Despite your unlimited love for your girlfriend, don't attempt to give a human heart cake or cupcake with blood vessels and dripping blood. Well, if you still prefer, you can - but only be prepared for a gory V-day ending!
5) Valentine's Steak
Some people think that nothing means "I Love You" better than a big chunk of raw meat. Never mind the fact that this may actually make this Valentine's Day your last with your beloved. So, it is highly recommended that you grill the steak first, and then serve it with a delicious wine.
6) Insect Food
If you are 100% sure that your man has a taste for the bizarre, then these little insect candies would be the right gift for him this Valentine's Day. Covered in chocolate, you can gift ants, crickets, larvae, grasshoppers, etc. In case you cannot decide on any one insect candy, you can send across an assorted box of various chocolate-covered insects, which would offer a variety of flavors to your beloved. But if your judgment is wrong about him liking it, then we are sorry!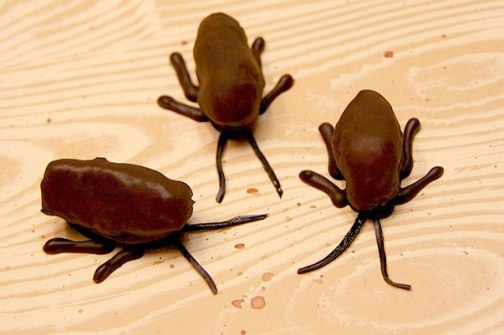 7) Edible G-String & Bra 
Well, here is something that will not feel so weird but we decided to include it in the list nevertheless. This G-String and bra is made with fruit-flavored candies, and at just 60 calories, it is not going to be much of an impact on your Valentine's diet. Just the perfect recipe for a cosy Valentine dinner and after-dinner dessert, right?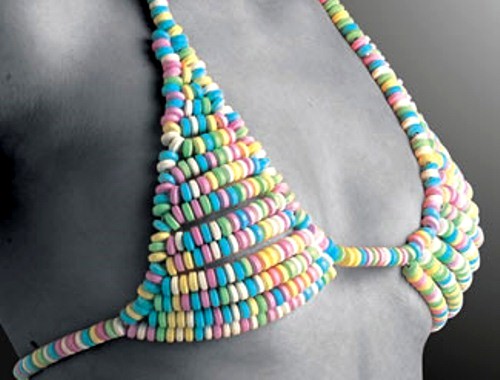 8) Meat Roses 
Your sweetheart loves flowers, and she loves meat too. Does that itch you to buy these meat roses for her? Well, what do you expect her to do with it - keep it or eat it?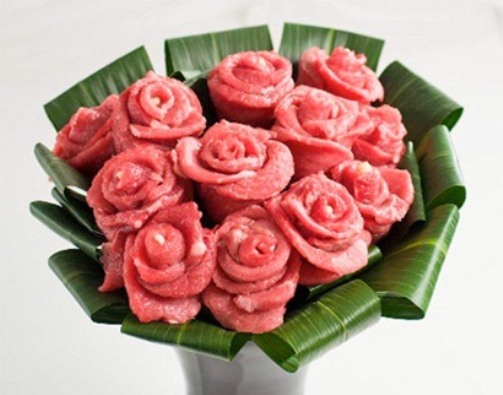 9) Diet Cookbooks
You may be well meaning, but gifting her a flat belly diet cookbook for Valentine's day is not a good idea! What are you trying to tell her - that she has a big fat belly?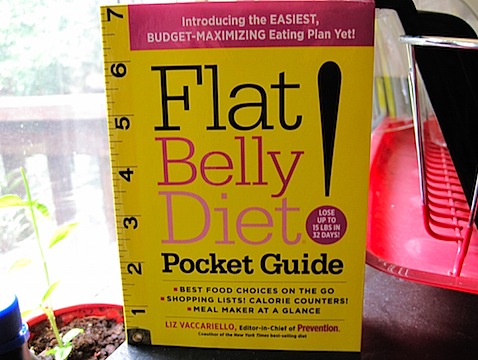 10) Bacon Deodorant
Does your Valentine love bacon? Are you eyeing the bacon deodorant for a gift? Well, that could be the dumbest idea ever, unless you want people to give you both strange looks wherever you go!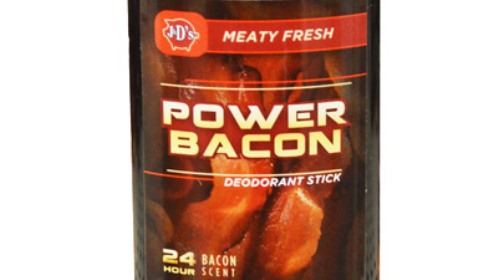 Image Credit - my-funspace, dukat.hr, thegrip.soup.io, manataka, indiwo, eatingbirdfood, j-walkblog, on-secondthoughts, notsohumblepie, onlyhdwallpapers, touslescadeaux, snake-wine-cobra, poetrysync
Weird Food Gifts For Your Valentine