10 Valentines Day Cupcake Ideas

7 Feb 2012
You can express your love any time, any moment; but, Valentines' Day remainsl special. Why not pep up the celebration spirits and fill the air with romance with some enticing Valentines Day cupcakes this year? Start your journey into a world filled with love right here, right now….
Top 10 Cupcake Decoration Ideas For Valentines Day
1. The Pink Cupcakes
This is the simplest of the ideas. Chocolate has a special place in love; so has the color pink. When they team up, the mood is set. So, bake chocolate cupcakes and top those with pink food color added buttercream frosting. Enjoy these decadent treats as such or just add few glittery embellishments for added elegance.
2. Be Mine Cupcakes
Bake three sets of cupcakes - the same flavors or three different flavors, preferably vanilla, chocolate, and strawberry. Prepare three different frostings – one vanilla frosting, strawberry buttercream with pink hue, and then finally chocolate ganache. Arrange the cupcakes in three different layers, starting with vanilla and ending with chocolate. Pipe in the frosting - vanilla, strawberry, and chocolate - atop the cupcakes with same flavor. Embellish as shown in the picture.
3. I Love You Cupcake
There are various ways of decorating this cupcake. The easiest one will be to bake a cake of your choice, top with vanilla buttercream, and pipe I love you on the cupcakes. You can even bake a chocolate frosted cupcake and pipe in the words on the same.
4. Cupcake Bouquet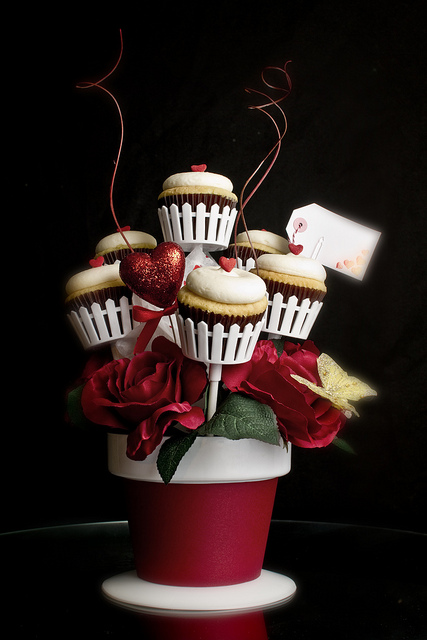 This cupcake bouquet shown in the picture is a super cute Valentine's Day gift for your partner. Simple vanilla cupcakes, simple vanilla flavored frosting, and a red heart! Make sure that you pick up a cute red basket for arranging your bouquet!
5. Pink Bow Cupcakes
Easy to make and great to taste, this is one of the simplest, yet most admirable of the cupcakes you can bake for this Cupid's Day. Bake a strawberry cupcake and top off with pink fluffy frosting. Add a pink bow as embellishment. There is no reason why your sweetheart won't be impressed!
6. Heart Cupcakes
These cupcakes have the frosting piped on them in the shape of heart. Be it a chocolate one or any other flavor or an assorted set, it is the perfect choice to overwhelm your partner. You can even transform you favorite brownie into a decadent cupcake to induce that radiance on your lover's face.
7. Cut Out Heart Cupcakes
It looks a little tough, but it is actually easy. All you need is a Heart Shaped Cookie Cutter. Bake a red velvet cupcake and with the cutter, shape out a heart atop. Sounds interesting?
8. Pink Cupcake Heart
This heart tastes as good as it looks. Pink and white frosted cupcakes arranged in the shape of a heart... Use vanilla cupcakes with simple white and pink fluffy frosting. These make perfect Valentines' Day treats for school party.
9. Golden White Cupcakes
The elegance of white reflects in these golden-hinted white cupcakes. Madeira cupcakes or a rich and luscious dark chocolate cupcake - with a creamy pale white frosting – what is your take?
10. Swirl Cupcake
Give your cupcake the look of an ice cream by topping off the frosting like swirls of an ice cream. A red food color added buttercream frosting and a plain white ganache frosting reflect the colors of love.
Choose from these Valentines Day cupcake ideas and surprise your love.
Image Credit: justjennrecipes.com, thecupcakeblog.com, ifood.tv
10 Valentines Day Cupcake Ideas