2012 – The Year Of The Dragon And Chinese Cuisine
12 Jan 2012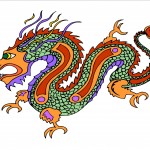 2012 is the Year of the Dragon and Chinese New Celebrations, to be held from January 23 to February 9, will be the longest and most important according to the Chinese calendar. Just like every celebration, this one is also about food, and when it comes to Chinese cuisine, Americans are gaga about it already. However, the year 2012 is expected to renew the Americans' love for Asian cuisine all the more.
1) Rising Awareness
Along with Asian communities, the non-Asian population groups are also turning towards the Asian cuisine. This rising awareness is something that has made the companies and supermarkets to sit up and take note. As a result of this, many stores are planning promotions based on Asian cuisine, especially in Washington, Idaho, Utah, Nevada, Oregon, and California. Many store owners and sales executives are banking on this rising interest to introduce Americans and other non-Asians in America to the wonders of some Asian fruits and vegetables. One such sales executive, Amy Nguyen, who works with Dragonberry Produce in Clackamas, Oregon, said, "I would like to see interest in dragonfruit, which has medicinal value and eye appeal. Food is a common language for all of us. We want it to be the next 'everyday fruit' for Americans."
2) From Dragonfruit to Asian Mushrooms
While dragonfruit may have a direct reference to the Year of Dragon, there are other commodities too, which await marketing in America. Some of these items are everyday Asian, like Chinese celery, bitter melon, Buddha's hand, bamboo shoots, Chinese eggplant, and Asian mushrooms. Another company to venture into promotion on account of the Dragon Year celebrations is Melissa's/World Variety Produce Inc., which is going to market about 100 items through its retailers to Asian, as well as non-Asian consumers.
3) Restaurants Join the Fray
While the companies are looking to expand lines in their produce sections, the restaurants could also play a major communication tool in the scheme of things. As happens, most of the time the consumers, especially non-Asians, are not aware of what goes into making a Chinese dish that they so openly relish. This could be surprising because more often than not, Chinese dishes have been popular with the non-Asian crowd. So, there is a clear need for bringing awareness regarding what goes into making their favorite Chinese food. The restaurants can do a lot here.
4) The Weight Loss Pledge
One of the company owners even goes to the extent of saying that with millions of Americans worried about weight gain and struggling to shed extra baggage, Asian produce could be just the right option to choose. He says, "Americans rededicate better health and the Asian consumer is the least obese as a demographic." That says a lot about the Asian food too. 
5) The Line is Growing
The Americans are already lining up for Asian products if one of the store owners is to be believed. It is only that the movement is at a local level, with smaller grocery stores catching upon the trend. If the larger chainstores get on board too, then, perhaps, things would really start looking up for Asian cuisine in America.
With the Year of the Dragon already round the corner, it is time to get familiar with the Asian foods and cuisine. In case you need help to start, you can do so with these facts about Chinese cuisine.
Image Courtesy: katysong.com
2012 – The Year Of The Dragon And Chinese Cuisine