Sainsbury's UK Website Hits Technical Glitch During Christmas
23 Dec 2011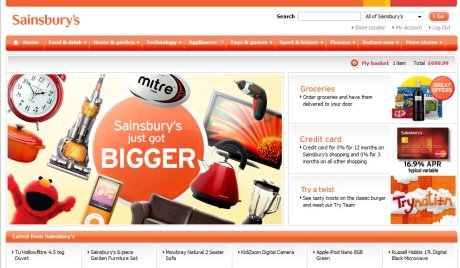 As the Sainsbury's UK website hit technical glitch during Christmas, festive shoppers are finding it difficult to shop online. The ongoing festive season took its toll on the website of Sainsbury's UK supermarket on the last day of November 2011, with more than half of the visitors to the site not being able to open the Christmas page completely. Moreover, the webpage took as much as a minute to open, leaving the customers flabbergasted.
1) The Problem
Internet monitoring firm, Keynote Systems noted that between November 30 and December 7, 2011, the Sainsbury's website lagged behind all its competitors in the time it took to open. The firm explains why this happened, "Sainsbury's Christmas page has the most elements to load meaning if there is an issue with one of these, it can disrupt performance and dramatically slow the site."
2) No Home Delivery
However, slow uploading of website is not the only issue that was bothering the Sainsbury's management and customers alike. The customers who ordered food for Christmas to be delivered to them were unable to receive it. This was because an all-important delivery slot disappeared from the website due to an IT failure. As a result, the company was not able to guarantee a time slot to those less than 100 shoppers, who were affected by this glitch.
3) Company's Response
Meanwhile, the company has issued an "unreserved apology" through one of its spokesmen. In the apology, it said, "We have been contacted by a small  number of customers who found their online delivery slot cancelled when they reviewed their order. In the majority of cases, we have been able to re-book their deliveries."
However, the spokesman said, "In a small number of cases we were unable to offer a suitable alternative and we have offered these customers a gesture of goodwill. We apologize unreservedly to customers who have been inconvenienced in any way."
For now, the Sainsbury's UK website is up and running but as the internet firm, Keynote, said, this problem has been going on for a long time and if it happens more often, that may deter the customers from making purchases on the website. That, however, is the long term perspective and definitely a matter of wait and watch.
Image Courtesy: shopaholictoday.com
Sainsbury's UK Website Hits Technical Glitch During Christmas