Canapés – An Ideal Dining Solution For New Year's Eve Parties
22 Dec 2011
While entertaining a crowd of guests at home, preparing a multi-course meal is a tiring option. Therefore, a platter of canapés becomes the ideal dining solution as you don't have to spend too much time, manpower or cooking space to make these. With the party season already set in and New Year just a few days away, your dining problems have got resolved too.
You may choose to prepare the bite-sized canapés at home yourself or outsource your requirement, careful planning is a must in both situations. However, in latter case, here is what more you need to do:
1) Selection
Decide how many canapés you need for your party. The number would depend on the number of guests you have invited and also the size of the canapés. So confirm both before you place an order. You also need to select the shape of the canapés and the food you are going to serve on them. Crackers, bread, toast or puff pastry can serve as the base for your canapés. You can choose from among butters or pastes to slather on the base, and then comes the savory foods like meat, fish, caviar, cheese, foie gras, or relish, which you can choose for the toppings. 
2) Preparation 
Get it confirmed from the caterer whether the canapés will be prepared at your home or delivered readymade. You need to confirm this with the caterer because in case the canapés are to be prepared on-site, then you need to provide the kitchen space and material to the caterer. Most of the caterers would provide you with extras such as serving plates, napkins, cutlery, a server and a washer. 
In case you decide to do canapés at home, all by yourself, the basic guidelines remain the same, as trained chef, Andy Campbell, puts it, "In terms of choice, a good formula to work by is one canapé featuring red meat, one with white meat, two fish, and one vegetarian option. Serve two hot, the rest cold." This advice comes from a man who runs a "Chef for Hire" business and has catered for film premieres and corporate events. He offers you other pointers as well, which are:
a) Size is crucial. Canapes should be eaten in one or two mouthfuls, so no plate, knife, fork, just one canapé at a time.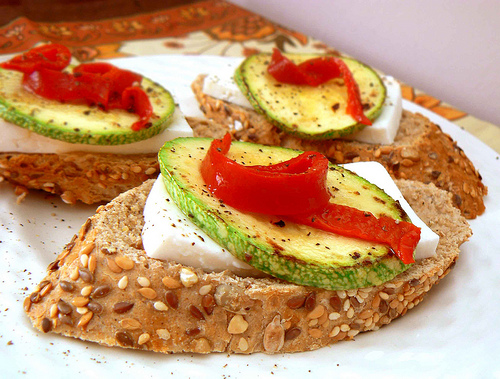 b) Quantity is crucial too. If you are having a party of 20 people, you need to work out the quantity on the basis of eight canapés per person. That comes out to be 180 canapés in all. Keep that math in mind.
c) You can take shortcuts. Buy a few deli items like marinated vegetables and meat, peppers that are stuffed, pickled squid, mushrooms, olives, etc, which you can directly place over the canapés.
d) Check out the toppings. The choice of toppings is absolutely upto you because you know your guests better than anybody else. Therefore, keep your guests' preferences in mind before you select the toppings.
e) Serve something extra too. You can serve miniature poppadums, nuts, crisps, tortillas too at the party, along with the canapés. This will give your guests a variety in their food and will also ensure that the quantity of canapés you decided does not fall short of demand.
Making and serving canapés for a New Year's eve party is probably the best possible dining solution. So, go ahead and throw that bash!
Image Courtesy: ifood.tv, recipesbysam.files.wordpress.com, canarygirl.com
Canapés – An Ideal Dining Solution For New Year's Eve Parties