Yummy Christmas Symbols!
15 Dec 2011
When does a candy cane stop being just a candy cane and become a symbol of something big? Well, on Christmas, when else! Yes, the holiday season is here and children are extremely happy for that. Well, there is the Santa Clause but there are the edible symbols of Christmas as well. Check out some of the most popular edible symbols associated with this festival and see if you can raid the nearest supermarket and catch hold of some for your bunch:
Popular Edible Symbols for Christmas
1) Chocolate Santa
Priced at a little more than just one pound, this Chocolate Santa is taking the American Christmas treat scene by storm.  This makes us wonder whether the yummy treat actually stands for St. Nicholas or is a symbol to set the cash box ringing on the festive occasion. Whatever may be the case, it  makes a great item to fill up the Christmas stockings and are available in various forms, such as Santa Claus with snack, Santa Claus on sleigh, Santa Claus with basket, and Santa Claus with sack and child. And yes! The milk free variety can satiate the ones intolerant to lactose too!
2) Striped Candies
Young mouths stuffed with candies are a common enough sight on Christmas Day. But did you know that the  red and white stripes projected prominently on the sticky sweet represents something a tad more serious? Yes, it stands for the sacrifice and purity of Christ who died for our sins on the Cross.
3) Chocolate Trees
Nothing symbolizes Christmas better than a Christmas tree. You love to decorate a Christmas tree every year. But the edible ones made painstakingly with chocolate and artfully colored sugar is meant to remind us of resurrection, the renewal of life and hope that springs eternal in every devout Christian's life especially on the 25th of December.
4) Gingerbread Man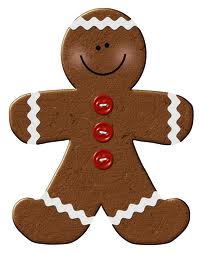 This cute, traditional dessert has been steadfast in delighting the young and old alike especially on Christmas Day. The brown colored gingerbread man represents the mortality of humans and priests even believe that is created in the image of Adam from the Old Testament who was created by God out of dust.
5) Tasty Table Lights
Any festival is incomplete without lights and so is Christmas. When you put up lights around your Christmas tree or your house, you symbolize that light pervades darkness and leads the way for human beings, just like the sun does every morning. So, it is even better that you can gorge upon these edible  lights allowing it to dispel some of the darkness within!.
These Christmas treats symbolize various aspects of the festival, be it love, kindness, sharing, or religion. Gorge upon these edible Christmas symbols and celebrate this festive season with love and happiness.
Image Courtesy: chocolat.bz , simple-english-blog.blogspot.com, anordinarymom.wordpress.com, ggdigitaldesigns.blogspot.com, sweetbakingsupply.com
Yummy Christmas Symbols!