Obamas' Thanksgiving Day Out At Food Bank
25 Nov 2011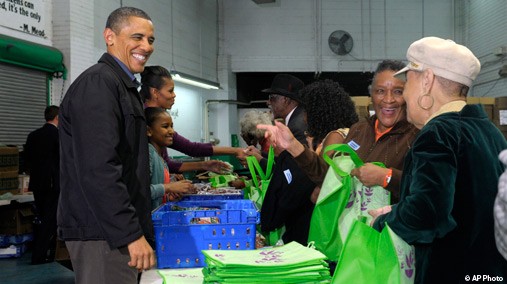 The Capital Area Food Bank in Northeast Washington was witness to heightened activity prior to Thanksgiving as it received the First Family and two dressed turkeys, and M&Ms. President Obama, Michelle, their two daughters and First Lady mother, Mrs. Robinson, visited the food bank, which distributes more than 30 million pounds of food every year. This could well be described as Obamas' Thanksgiving day out at Food Bank.
A Chilly Evening
It was a chilly evening when the Presidential motorcade made its way to the food bank, where the First Family spent time filling giant food bags for needy people. The entire family seemed to be in good holiday spirits while they chatted briefly among themselves as well as with those who came in.
The Jaindl's Turkey Farm
While discussing his trip this morning, President Obama thanked the "folks at Jaindl's Turkey Farm in Orefield, Pennsylvania," which, he said, had donated the dressed turkeys for three consecutive years now.
The Thanksgiving Spirit
The Thanksgiving spirit was, however, not only limited to the Food bank visit as President Obama also remarked later on, "When we gather around our tables to share the fruits of our blessings, let's remember what that means. Let's be grateful for what we have. Let's be mindful of those who have less. Let's appreciate those who hold a special place in our lives, and make sure that they know it. And let's think about those who can't spend the holiday with their loved ones – especially the members of our military serving overseas. I'd like to thank all our men and women in uniform and their families for their incredible service and devotion."
President Obama's speech on the eve of Thanksgiving embodies the whole America's wishes for those in uniform as well as those who are needy.
Image Courtesy: blogs.state.gov 
Obamas' Thanksgiving Day Out At Food Bank