Anthony Bourdain Plans A Rockin Thanksgiving Dinner

25 Nov 2011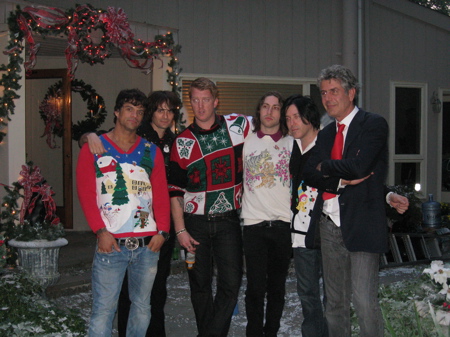 There is a lot of buzz about the upcoming holiday special episode of 'No Reservations'. This Emmy Award winning food show is in its 7th Season, and the host Anthony Bourdain has planned something special this Thanksgiving, he has invited none other than LA Rock Band, 'Queens of the Stone Age'.
When Rolling Stones got in touch with him he said "It's a traditional Thanksgiving/Christmas meal with turkey, all the trimmings, cranberry sauce and pumpkin pie … some Christmas carols … and a vicious brother-on-brother knife fight,' 'We spent a fair amount of time spraying stage blood onto my niece and nephew's face. What's a holiday special without violent mayhem? I think it's an honest reflection of the holiday season."
Check out some of the tips on how to cook a turkey, Anthony Bourdain style. Hopefully, this will help you to have a rocking Thanksgiving this year
Bourdain's Tips
The Turkey's breast takes more time to cook than the legs. To cook the turkey quickly, first take off its legs, and place them in a separate pan. Apply butter under the skin, add salt and crushed pepper and avoid using garlic.
While roasting the turkey, don't add the stuffing in the cavity of the turkey. Instead, make the stuffing on the side. This helps to avoid bacteria, which causes the bird to drain into the stuffing.
 
The said episode is sure to notch up the number of viewers. It will be fun watching the chef team up with a rock band to make thanksgiving dinner, this time.
Image Credit- stereogum.com
Anthony Bourdain Plans A Rockin Thanksgiving Dinner