Jobless Chef Plans Thanksgiving Meal For Wall Street Protestors
22 Nov 2011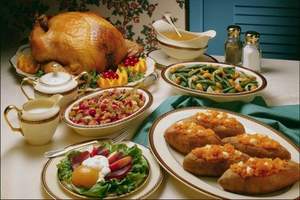 After facing police batons for some time, the protestors on the Wall Street will get to celebrate this Thanksgiving with some home-cooked food thanks to a jobless chef, who is planning a Thanksgiving spread for them. What is interesting to know is that the chef, Eric  Smith, himself lost his job at the Sheraton Hotel recently.
That is not all, however, as Smith himself has been protesting at Zuccatti Park in New York. In fact, the Thanksgiving meal for Wall Street protestors is another way for Smith, to speak out against the global meltdown, which has affected Americans in a big way.
Plotting his biggest meal
Smith has been cooking fine food for rich guests for quite some time but cooking Thanksgiving dinner for the one thousand plus protestors is going to be his biggest meal yet. And he is all ready for it.
What goes into the meal?
The gourmet chef will cook 150 turkeys with 300 pounds of stuffing, 400   pounds of potatoes, and 250 pounds of cranberry sauce. This giant meal will be served to the protestors on the Wall Street. The meal will also contain cider and water. Now the only thing left is the pies and the organizers of the Thanksgiving initiative are waiting for someone willing to donate about 300 pies to complete the meal.
Smith Says
About his culinary adventure, Eric Smith says, "We hope on Thanksgiving we can bring solace to all these people. Get together, give everyone an inspirational boost."
Admitting that the past two months have been rough for the protestors, in particular, and general public, in general, Smith hoped that this Thanksgiving meal would be people's "chance to rejoice."
Image Courtesy: mediaite.com 
Jobless Chef Plans Thanksgiving Meal For Wall Street Protestors