Onam Sadya menu - A Grand Feast To Celebrate Harvest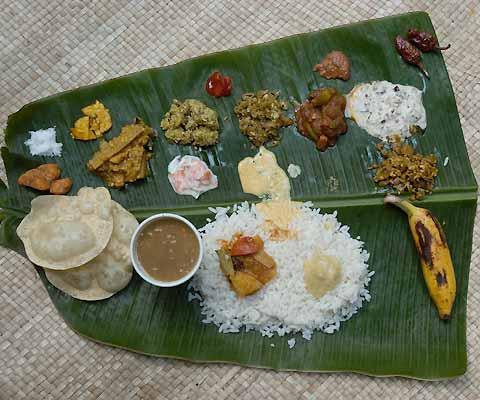 Onam Sadya (or Onasadya, Onam Sadhya) is a major highlight of the harvest festival of Kerala, Onam. This grand feast is basically a nine-course meal made up of about 15 essential dishes and side dishes, although you can serve anywhere between 12 and 16 dishes during this feast.  The meal is traditionally served on banana leaves and people eat it sitting on the floor, with their hands and not the cutlery.
Onam Sadya Menu
Keralites call Onam Sadya a treat of flavor and sublime culture and they start preparing for it a week in advance, with items like "lime pickle," "Sharkara Varatti" (banana chips coated with jaggery), and "Upeeri" (plain fried banana chips). However, the feast is not only about food. There is the Onam Pookalam, which is a carpet made with colourful flowers and used to decorate the entrance to a house or a building. Now getting back to the food, the Onam Sadya menu mainly consists of some regular items and some specialities, which you can decide according to your convenience.
However, even before we get to the main menu, let us inform you that at this grand feast, serving the meal is as important as cooking or eating it.  Therefore, here is an overview on how to present or serve the Onam Sadya menu.
How to serve Onam Sadya? 
This feast is served on banana leaves and you can only eat it sitting on the floor (although, with the changing times, people eat it on dining table too). The narrow part of the banana leaf should be facing towards left of the person. You should start serving from the bottom left of the leaf, starting with a pinch of salt and banana and a series of side dishes. The dishes are served left to right of the leaf. Keep that in mind when you serve the Onam Sadya menu to guests.
Now coming to the crux of the grand feast, i.e., the main menu dishes, those are as follows:
Pappadam, Banana, Pickle: These three are the mainstay items of a Keralite feast and are served first and foremost. Pappadam is thin, crusty flatbread made of rice or lentil flour and served as an appetizer while the pickle can be made of raw mangoes or any other vegetable.
Sarkara Varatti: These are banana chips fried and covered in jaggery. Jaggery is good for digestion and so are bananas.
Inchicurry & Thoran Curry:  These are ginger curry and Kerala beans curry, respectively and are served during the Onam Sadya feast.
Olan: It is an important dish in Kerala cuisine, made with white gourd, coconut milk and ginger and seasoned with coconut oil. The Olan is mild in taste and serves as a counter-taste to other, more spicy preparations, which are discussed further.
Avial: This dish is another significant part of the Sadya menu. It is a thick mixture of vegetables, coconut milk and yogurt, seasoned with coconut   oil and curry leaves.
Pulissery: This is another curry prepared using yogurt and grated coconut, along with vegetables or fruits, depending upon whether you want a salty or sweet curry. The dish is called Moru Curry when it is made without veggies and fruits.
Kichadi: This is another delicacy from God's Own Country, which is prepared with yogurt and cucumber, served in either cooked or raw form. You can add roasted cumin or cumin powder to lend a different taste to this dish.
Kalan: A sourer variant of Avial, Kalan, or Kaalan, is made with yogurt, coconut and a vegetable like plantain or a tuber like yam. The dish is thicker in consistency and quite sour, so eat it cautiously.
Koottucurry:  This curry is made with black chickpeas and a mixture of vegetables like plantain, yam, potato, and raw banana, etc, cooked till pureed consistency.
Apart from these important dishes, the Onam Sadya menu also consists of rice, parippu curry (dal or lentils), Sambhar, and Rasam.
For dessert, you may serve the sweet "Payasam," which is cooked with rice, milk, sugar, and dry fruits.
Onam Sadya Tip
It is generally advised that the guests should eat some rice along with rasam after having Payasam as this could help in digesting the rich meal.
Image Courtesy: ifood.tv 
Onam Sadya Menu - A Grand Feast To Celebrate Harvest