Office Summer Party Ideas
2 Sep 2011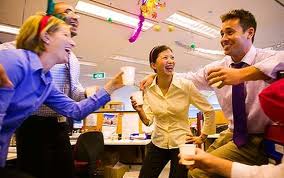 Office parties are usually fun, and when it comes to celebrating something as fun as the summer season, the joy just doubles up. Sure, an office party means loads of planning and preparation. But then what really compares to the thrill of hanging out with your colleagues after-work, sipping on an arsenal of cocktails, participating in loads of fun activities, and bingeing on finger-licking good food.  To dazzle up after-hours celebrations even more, we bring you a whole slew of office summer party ideas. Find your inspiration and get partying.
Office Summer Party
Theme
Gone are the days when office parties were stiff and uptight affairs. Today, its more about letting your hair lose and partying. Parties without themes are like cocktails without ice! Save your office summer party from turning into a boring bash with a fun party theme. From Mardi Gras to costume party to the very 'summery' Hawaiian Luau, you can theme your office party any way you like. Just make sure you communicate the theme to your guests beforehand so that they can come prepared.
Food
Unless it's a potluck, you will need to plan proper party menu for your hungry guests. Finger foods and cocktails always top the list when it comes to summer party favorites.  Set the party mood straight by serving scrumptious appetizers like breaded mozzarella sticks, spicy peppery poppers, egg salad and more. For the main course, you can set a platter of both vegetarian and non-vegetarian dishes and include favorites like vegan eggnog, beet root cutlet, cheese mince pancake and cottage cheese pakoras etc. For desserts, you can serve Chocolate pies, fruitcakes and ice cream.
Activities
Office parties are one great way to break the ice and liven up the camaraderie among the colleagues. To do that, you need to have a slew of fun-filled activities that ensures maximum, teamwork, participation and fun. Silly but fun events like paper wad basketball, pin the tail on the boss, jeopardy, pie eating etc. would make for great party events.
Hope that these office summer party ideas will jazz up the fun and excitement in your next office bash.
Image Credits: clydescupcakesmagic.blogspot.com
Office Summer Party Ideas