Summer Birthday Party Ideas
23 Aug 2011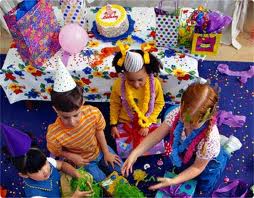 If you or your loved ones happen to be a July-born, then hurray, for we bring you a train of exciting summer birthday party ideas to make these summer birthday bashes even more happening. Birthday parties are indeed fun and when it comes to squeezing in some summer fun into your birthday celebrations, the options are essentially endless. From a backyard picnic to a sandbox party, you can always plan something special to make birthday's special, memorable, and great fun. For further inspiration, we suggest you scroll down this write-up.
Summer Birthday Party
Invitations
Birthdays are milestones that need to be celebrated with great fun and gusto. Let your guests know about your summer birthday bash by sending them peppy summer-themed party invites personalized with fun, funky wordings. To create an authentic summer feel, you can use bright, peppy lingo like, "I scream, you scream, we all scream for ice cream! Join the ice cream fun as we gang up to celebrate Ashley's 12th birthday…"
Theme
Birthdays are special time for everyone. Set the tone of your summer birthday party with exciting birthday themes. Whether you are more of a brave-heart adventure-seeker or a water-baby or a nature's child, you can plan your birthday bash theme according to your preference. From summer carnivals to Spanish fiestas to sprinkler party and more, make the most of your summer birthday by having fun in the sun.
Food
Bright and beautiful confections add a lovely touch to your birthday celebrations. There is no sweeter way to celebrate a birthday then exciting shaped cakes done according to your summer party theme. To add icing to the cake, you can prepare a seasonal spread of dainty starters and delish drinks. Get in a fresh, healthy, delicious buffet meals comprising of antipasto salads, roasted peppers,   garlic greens, seared sea scallops, dressed salads, and ice creams, cookies, cupcakes, and brownies for desserts. Whatever you prepare, it's best to plan and prepare ahead of the D-day. Also don't forget to have plenty of refreshing summer coolers, champagne, and other yummy beverages on deck.
Activities
Pump up your birthday celebrations with fun, feisty outdoor activities. You can think of a host of fun kid's activities like hula-hoop games, summer squash, bike rides, sporty soccer games and more. The adults can totally have fun by shaking their legs to groovy tunes, playing musical chairs, or indulging in fun board games. The options are unlimited here.
We are sure that these summer birthday party ideas will totally help to make your summer bash an eventful one.
Image Credits: ifood.tv
Summer Birthday Party Ideas