10 Summer Party Appetizers

22 Aug 2011
The word summer symbolizes party, festivity, and fun with varieties of food and drinks. Here are some easy summer party appetizers that are quick to prepare. These quick and delightful recipes are perfect party appetizers, that ensure that all your get-togethers are easy, delicious, and fun. Delve deep into this write-up to know about the 10 interesting summer party appetizers….
Top 10 Summer Party Appetizers
1. Caribbean Fruity Salsa Dip
Chilled dips are party appetizers ideal to beat the scorching summer heat. Rich with the goodness of pineapple, mango, and papaya, the fruit appetizer recipe gets its taste from the delicious blend of jalapeno, limejuice, and mint. Allow the dip to chill well before you serve it with your favorite chips.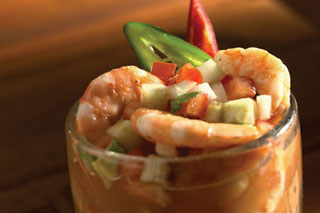 Shrimps, cooked with garlic, peppercorn, and bay leaf, are tossed in a delightful mixture of cucumber, tomato, onion, cilantro, avocado, limejuice, ketchup, and hot sauce. Serve this flavorful seafood party appetizer in attractive cocktail glasses with a slice of lemon on the side and a dollop of sour cream.
3. Crackers With Olive-Nut Spread
Take some crispy bread crackers and spread a layer of olive-walnut spread on each cracker. Garnish each with a slice of fresh mozzarella cheese, a couple of roasted red pepper strips, and a sprinkling of fresh chopped basil to be served as party appetizers.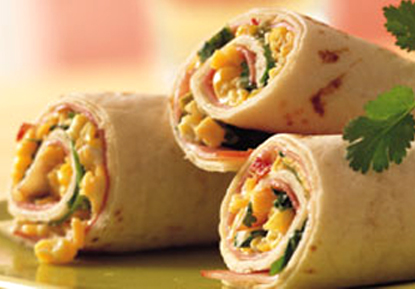 A mixture of cheese, mayonnaise, sour cream, and corn is placed atop a ham slice arrange in a tortilla and garnished with cilantro. These cheese roll-ups make great party appetizers.
This is definitely the easiest among summer party appetizer recipes. Potatoes are baked to golden brown and served beside assorted toppings, which can be anything from a mixture of hot, cooked broccoli with shredded mozzarella cheese to a mixture of Parmesan cheese flavored with assorted herbs.
Chicken is marinated in a mixture of bell peppers, lemon juice, wine, zest, shallots, garlic, basil, parsley, marjoram, and white pepper for about 2 hours before being grilled with pepper pieces, onions, and cherry tomatoes. Serve skewers hot along with small bowls of barbecue sauce or mint chutney for dipping.
These party appetizers form the perfect choice to start the summer party with a sweet note. Banana, star fruit, pineapple, and papaya are grilled, while basting continuously with a sweet flavorful mixture of honey, lime juice, and curry powder.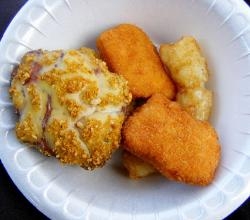 This simple, easy to prepare appetizer recipe has always been a darling in the summer parties. Chicken breast halves are dipped in flour-egg batter containing sesame seeds before being fried to golden brown. Serve these summer party starters hot with a fiery sauce and fizzy drink of your choice.
Make use of this nutrient rich summer vegetable to add more color to your celebrations. Grill it and enjoy as such or top with pepper, salt and a coating of butter for added flavor!
10. Thai Summer Rolls With Plum Sauce 
This roll gels perfectly into list of party appetizers with its mesmerizing and relishing taste. The plum sauce along with canola oil, lime juice and fresh spices like ground pepper, basil and thyme add to the flavor of this exquisite appetizer.
Groove to the lovely tunes of the summer party music while relishing these delightful summer party appetizers!
Image Credit: ifood.tv
10 Summer Party Appetizers