Summer Pool Party Ideas
21 Aug 2011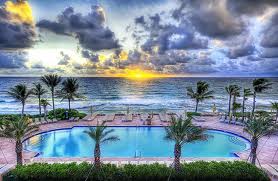 With the mercury soaring high, it is indeed time to be a true water baby, hit the pool deck and revel in the party of a lifetime. Pool parties are inarguably the best way to let the steam off and beat the blazing sun. A completely hedonistic indulgence in itself, pool parties are always about loads of water based fun, dance, music, cocktails, finger foods, and great bonhomie. From the party invites to food, we bring you a string of summer pool party ideas that will help you to bring in the summer with a bang.
Summer Pool Party
Invite
Wondering how to send across a word about your summer poolside bash? Simple, just pick a water or pool theme invitation card with a light, summery flair, customize it with a peppy party message, and send it across. Remember, your invite is what sets the tone for your celebration. Therefore, it's best to stick to your pool party theme when spreading the word.
Decor
Turn your poolside bash into a glitzy soiree with Christmas lights, neon, fluorescent lights, and lanterns. You can also set fun themes to jazz up your celebrations. Additionally, you can use props like fake palm trees, colorful beach balls, pool toys, inflatable tubes, real shells, beach umbrellas, and other beach accessories to prop up your poolside décor. The cue is to create a laid-back ambiance and get all guests to make a splash.
Food
What party is complete without food and your poolside fun is no exception. Instead of piling the plates with greasy, heavy on stomach food, stack the trays with light and luscious finger foods, bite sized snacks, wafers, chips, popsicles, and dips. For drinks, you can serve lemonades, summer coolers, and refreshers.
Games
Party games aren't for the party poopers! Give your celebrations an added kick with fun party games like water-man, water tug-o-war, water relay, rope pull, deep dives, and more. Remember, imagination is the key when it comes to deciding on party games. So rack your brains for more ideas.
Music
No party is complete without some rock n'roll! Just plug and play your favorite Elton or Sinatra track, or better, get your guests to bring in their favorite musical collections. In that way, you won't just have variety, but will also have plenty of options in your jukebox.
Turn your lazy summer weekends into fun filled soirees with our exciting and totally happening summer pool party ideas.
Image Credits: ifood.tv
Summer Pool Party Ideas