Hot Summer Party Ideas
20 Aug 2011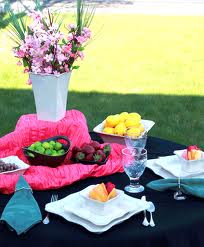 This summer, shelve your plans of a beach getaway or a seaside stint and stir up some summer fun right within your home with our hot summer party ideas. To make your summer bash even more eventful, we bring you some sensational ideas that won't just get your party rolling, but will also ensure that your guests have a gala time.
Hot Summer Party Ideas
Cocktail Fun
Beat the heat and get the booze flowing with super-cool cocktail bashes. Summer indeed screams of fruity punches and refreshing cocktails and what better way to jazz up fun than loads of chilled beer cans, martinis, champagnes, fresh fruit juices, lemonades, and tons of ice cubes. To add some extra kick to your cocktail fun, don't forget to set the grill on fire.
Poolside Bash
Never mind if you can't hit the Hawaiian beaches or sail away to Caribbean islands this summer. You can always beat your summer blues by hosting a happening poolside bash. Just set up a tiki bar, get loads of booze, and your favorite summertime CD's of The Beach Boys, Nat King Cole, and Sheryl Crow. And yes, don't forget to ask your guests to get the swimwears too.
Bonfire Nights
Forget the causal barbecue buffets and casual dinners and stir up some real excitement with a super-charged bonfire night. Nothing really compares to laid-back bonfire bashes with ice-cold beers, groovy beats, cackling fire, and exciting food platter. Whether you like the idea of sitting under the clear blue sky and watching the fire cackle or just relish the thought of sipping on chilled champagne and straight out of the bonfire meals, bonfire nights are your bet.
Beach Party
For the beach lovers, a beach themed summer soiree replete with refreshing punches, beach games, beautiful babes, and a fake beach sandpit would be a great bet. Just tune into sweet Beach Boys music, get your favorite aperitif and appetizers on board, and get partying full swing.
Summers are indeed one time to let your hair down and party hard. And these exciting hot summer party ideas do help to get all the fun started.
Image Credits: savvyentertaining.com
Hot Summer Party Ideas