Summer Party Themes
13 Aug 2011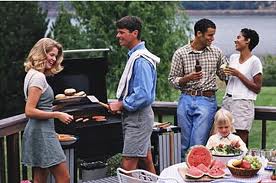 Whoever said that summer is when all the action is was indeed right! As the weather warms up, it's time to let your hair down and get partying. Be it be outdoor parties, poolside bashes or casual cocktails, nothing beats the joy of super-charged summertime bashes and the thrill of having tons of fun under the sun. This summer, plan something fun and get celebrating the season of the sun.  Never mind if you can't think of fun ways to jazz up your celebrations. We bring you plenty of cues on summer party themes to help you host a one-of-its-kind of summer parties. Pick your theme and get planning!
Fun Party Themes For Summer
Poolside Party
Beat the sweat and the sweltering sun with fun, poolside parties! Nothing bets the fun of a splashy bash. Apart from making cool splashes and wadding through the waters, you can also plan some fun water games like rubber duck races or water volleyball. And yes, don't forget to keep tons of hor d'oeuvres and summer coolers for your hungry guests.
Costume Party
How about a cool, fancy-dress party theme for your summer soiree? Get your guests to dress-up like their favorite red-carpet celebs and steal the spotlight this summer party. And yes, don't forget to lay a red carpet for your guests of walk on. Besides, you can also opt of other fun costume-party themes like the retro theme, pirate theme, disco themes and more. No matter what fun theme you choose, make sure that you recreate the perfect ambiance for the party spirits to set in.
Game Party
If the rising mercury levels have your energy levels dipping, then planning a fun game summer party could get your adrenaline levels gushing. Plan an entire day out in the sun, playing your favorite sport, and indulging in all the sporty fun you could possible think of. Don't forget to keep cans of energy drinks for your dog-tired guests.
BBQ Party
All the foodies out there could do well with a backyard BBQ party, stacked with plenty of steaks, beers, music, and dance.  Take a break from the hectic weekends and plan put a nice, fun relaxing BBQ party night. To add some extra fun to your celebrations, don't forget to get hold of some groovy music CD's and some exciting board games.
Activity Party
Beat the party rut with fun activity themes. From scavenger hunt to memory games to treasure hunt, you can just plan any fun, activity games. Not only will it keep your guests on their toes, but will also tot up as a huge fun party.
Summer is indeed a time to roll up your sleeves and get partying. These above party themes should get your party rolling. Have fun!
Image Credits: ifood.tv
Summer Party Themes