4th Of July Cookie Ideas
550714-4th-of-july-cookie-ideas.4th2bof2bjuly2bcookies
We love to celebrate 4th of July with parties and get-togethers. It goes without saying that  good food and drinks are an integral part of any such celebrations Whatever you choose to cook and serve on the Independence Day, one thing remains intact - the cookie. Fourth of July is not just any cookie day. This day calls for a special cookie recipe that represents the spirit of the occasion as well as tastes divine. So, here is your list:
1. America's cookies:
These are very easy to prepare delicious cookies, with an elaborate decoration pattern made with icing, which are usually decorated with sparkles.
2. Patriotic star cookies:
This is a perfect 4th of July cookie with its stars and small motif which clearly states " Happy Fourth". Common ingredients used in preparing these cookies are edible color markers which are used for decoration, blue dots sugar sheets, edible decorating paper, piping gel for putting the date and red sugar edible sheet or paper which offer interesting backdrop to the cookie. Looks like a lot of work but is not!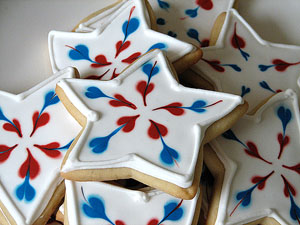 3. Spritz Stars & Bars cookies:
These 4th of July cookies need to be prepared in advance because they need time to set – so get all the ingredients required for these cookies a few days earlier and bake them the previous day. Some common ingredients used in the preparation of these cookies are red candy melts, candy color sets, premium white candy melts, sprinkles and spritz cookies.
4. Cookies from the heartland:
The stars and stripes of these cookies will surely set the mood for the occasion and, what's more, it gets made in a jiffy, with ingredients that may be lying in your pantry.
5. Cookie salute:
The shimmering stripes on Cookie Salute will certainly be an endearing incentive to make these 4th of July cookies special and significant. Yellow icing color, blue and red sparkle gel, sprinkle decorations and white nonpareil sprinkle decorations are the common ingredients you will need to prepare these cookies. Butter cream icing not only adds to the taste but also makes the cookie look mouth watering.
Prepare your special 4th of July cookie and add your bit to celebrate the day in true patriotic style!
Other Articles You May Like To Read:
1. Best 5 Cookie Exchange Cookies For Cookie Day Party
2. Best 5 Holiday Cookies For Cookie Day
3. How To Create A Cookie Day Food Basket With Gourmet Cookies
Image Courtesy: 3.bp.blogspot.com, examiner.com 
4th Of July Cookie Ideas