Wedding Finger Foods

3 Jun 2011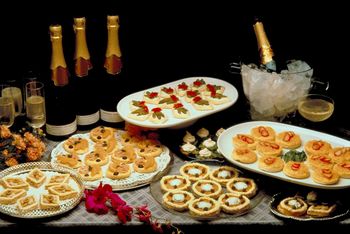 Wedding ceremonies are always special; so are wedding finger foods. Finger foods for weeding ceremony have to be selected with great care and with passion for taste and quality so the gusts can really enjoy the savor and the fresh start of the couple remains healthy in its all perspectives.
Wedding finger foods are ideally to be tasty and easy to serve type which allows the guest to enjoy the foods on their own without much considering about serving plates and etiquette of having these platters. Preferably the foods should be well-cooked and baked. Veggies are to be chopped and frozen in advance so that it can complement the delicious taste of foods as well. 
Wedding Finger Foods Guidelines
Let's have a look for some variants of wedding special finger foods. In case you are serving finger foods in evening or for cocktail party, finger foods should be tasty, healthy and filler type because they will serve the purpose of meal. Ideally wedding finger foods for evening party should be delicious combo of protein, carbs, and veggies.
Wedding finger foods options
These options are not any customary one. You can use the foods from one them like from Italian or Mexican, or from Asian delicacy however, it is also possible to include assorted dishes from different types and from different culinary customs. Some of the all time hit menus are
Appetizers and snacks
Mini pizzas, chicken wings, cheese puffs
Bruschetta, Cherry tomatoes stuffed with cheese, smoked salmon
Cucumber slices with herb seasoned creamy cheese, mixed shish kebabs, and canapés, etc.
Cheese, crackers, and breads are integral part of party platter and never to forget in party menus.
Stuffed clams, crab cakes, cream rolls, spring rolls, sandwiches, are also popular finger foods variants for wedding party menu.
Desserts in wedding figer foods menu
Desserts are the final touch on savory taste of invitation. In wedding finger foods menu you must add some desserts to end the session with blessed sweetness.
Fruit tarts
Lemon bars,
Chocolate rum balls
Petit fours
Cheese piece and pineapple slice seasoned with honey
Chocolate dipped strawberry and apple
Cream puffs, and
A small share of weeding cake
Fresh fruits in small bites are also wonderful natural dessert for wedding finger foods menu.
Arrange adequate quantity of mineral water; in fact mineral water bottle is the most utility finger drinks without which no one will be able to enjoy above-mentioned wedding finger foods in its true taste and tune.
Image credit: ifood.tv 
Wedding Finger Foods