Healthy Easter Snacks

13 Apr 2011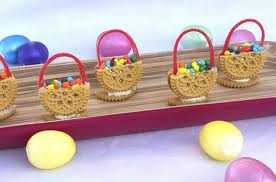 Easter is a time when you have candies in abundance. But don't worry there are many healthy Easter snacks too, to make your Easter morning a healthy one. Don't be bored of eating the Easter candies, try some healthy snacks.  Just think out of the box and keep kids and adults away from the sweet treat.
To distract your kids and family away from the sweet Easter basket, try few healthy snacks idea which can keep the essence of Easter and healthy together.
Easter Snack Ideas
Slice some fresh carrots and serve them with dips which kids and adults together can enjoy. Carrots are bunny rabbit's favourite food and become a healthy snack too.
Instead of keeping jelly beans in the Easter basket, keep dry fruits and nuts along with other goodies.
If you are serving bagels with cream cheese, add little color to the cream cheese. Use natural food coloring. You can use two or three colors to make the snack much attractive.
Buy few plastic hollow eggs and fill them with healthy nuts and other healthy munching. This way your basket will include eggs and there will be less sugar in the food.
Bring snack or party mix to the breakfast table and kids will love it. Mix together nuts, cereals, crackers and serve.
Make some fresh fruit salad with season them with lemon juice, pepper and serve.
If you plan nice sandwiches, shape them with cookie cutter in Easter eggs, bunny, Easter basket or any other interesting shape which blends with Easter mood and serve.
You can try fruit bars and other snack bars decorate them and make nice snack for your kids.
Try making cheesy egg in the nest for Easter morning breakfast. It is perfect food to start your morning and keeps your family away from sweets.
Blend nice milk shake and if you wish add few nuts or tiny chocolate eggs to make it more interesting.  You can also make fruit shakes and juices and decorate with Easter decorations.
You can convert any of the regular breakfast dish into a Easter special breakfast recipe and serve it. It can be French toast or poached eggs or casserole or any other food for that matter. Just enjoy the healthy Easter snack and let the mood set in. 
Image credits: snackpicks
Healthy Easter Snacks